28.01.2008
Two-Day Slovenian Presidency Conference during Sustainable Energy Week opened in Brussels by Minister of the Economy Andrej Vizjak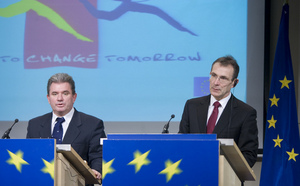 "Energy is crucial and decisive for the future development of the European Union," said Economy Minister Andrej Vizjak at the opening of a two-day conference organised by the Slovenian Presidency in the context of the European Union Sustainable Energy Week in Brussels.
As President of the Transport, Telecommunications and Energy Council (TTE) Mr Vizjak opened a conference marking the beginning of the European Union Sustainable Energy Week (EUSEW) together with European Commission members Andris Piebalgs (Energy), Stavros Dimas (Environment) and Janez Potočnik (Science and Research), the Chairwoman of the EP Committee on Industry, Research and Energy Angelika Niebler and the Executive Director of the International Energy Agency Nobuo Tanaka.
The Slovenian Minister stressed that it was very important for these events to span all energy sectors and to actively engage the representatives of all Member States. "This event is of interest to the wider world, which is proof that the European Union has an impact worldwide," he said.
At the EUSEW, over 60 exhibitors will promote their work and projects in the field of sustainable energy. Through joint and targeted action, achieving objectives in the field of energy has become a great opportunity, instead of a burden, for the forces driving the economy, pointed out Mr Vizjak, adding, "Joint activities should help reduce the gap between EU Member States as well as between the EU and neighbouring regions."
Dr Romana Jordan Cizelj welcomed the SET-Plan saying that it offers concrete solutions for attaining the set environment and energy objectives. In her opinion, we can succeed only if national policies follow measures adopted at the European Union level. This, however, is not the responsibility of the political sphere alone. Cooperation between  industry and consumers is indispensable if we are to achieve the European objectives.
The Strategic Energy Technology Plan (SET-Plan) is the main topic on the agenda of the first day of the conference. For more information about the event see: http://www.eusew.eu/