06.03.2008
Simplification of European Social Fund administration under new financial perspective discussed at Informal Budget Committee Meeting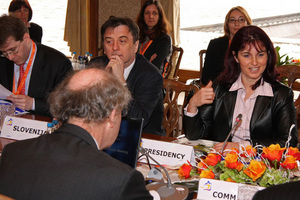 Brdo pri Kranju today hosted the Informal Meeting of the Council Budget Committee convened under the Slovenian EU Council Presidency, at which representatives of the European Commission presented procedures for drawing resources from structural funds in the new programme period that should be simpler and shorter.
The European Social Fund (ESF) plays an important role in building economic and social cohesion within the EU. The majority of funds are earmarked for education, training and increasing the employability of difficult-to-employ groups such as persons with disabilities and elderly people.
The meeting was attended by representatives of the EU Member States and the permanent members of the Council's Budget Committee. They expressed support for the European Commission's endeavours to simplify procedures for accessing ESF resources.
The meeting will continue this afternoon and tomorrow with a visit to commercial and cultural facilities co-financed by the European Communities.