17.03.2008
Prime Minister Janez Janša declares overcoming mutual differences and boundaries the key to long-term development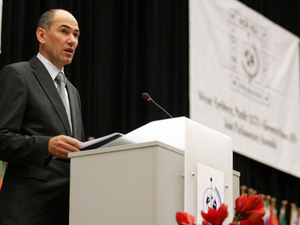 Today in Ljubljana, the Prime Minister of the Republic of Slovenia and President of the European Council, Mr Janez Janša, attended the opening of the 15th session of the ACP-EU Joint Parliamentary Assembly, one of the important events held during the Slovenian EU Presidency. At the meeting, he emphasised the importance of strengthening dialogue between different cultures, highlighting the improved cooperation between African, Caribbean and Pacific states (ACP) and the European Union. He devoted particular attention to the negotiations aimed at the conclusion of comprehensive regional partnership agreements with the ACP countries and adapting to the climate change and energy challenges.
Prime Minister Janez Janša said that overcoming mutual differences and boundaries is the key to long-term development. "I therefore welcome the first comprehensive economic partnership agreement between the EU and the Caribbean region, initialled at the end of last year. It will pave the way for comprehensive agreements with the remaining five regions. As the country currently holding the EU Council Presidency, Slovenia will see to it that special attention in the negotiations is devoted to the development aspect of these agreements and to a flexible approach."
The Prime Minister emphasised that, in 2006, every European Union citizen had contributed almost 100 euros to development aid, and that the European Union wished to enhance its development cooperation by contribution to the Tenth European Development Fund that provides almost 23 billion euros in development aid. The European indeed wishes to contribute to greater economic growth, the gradual inclusion of the African, Caribbean and Pacific countries in the global economy, and to encourage their regional integration. The Slovenian Prime Minister said the new Member States were proud to be participating in the tenth European Development Fund for the first time as contributors. "Better aid is also reflected in partner countries' enjoying a stronger role in development policy-making, administration of funds, and taking more responsibility for development and capacity to adjust to change. We are convinced that the national parliaments in the ACP countries will do their utmost to ensure the higher absorption capacity of their countries and the more effective use of development aid," added the Prime Minister.
Mr Janša stressed the importance of sustainable development, including energy security and climate change which both constitute the greatest challenge of the future. "It is vital that development cooperation strategies and programmes take account of environmental aspects to a greater extent. On our path towards finding equitable and sustainable solutions to climate change for the post-2012 period, we count on partnership with African, Caribbean and Pacific states. In order to reduce the impact of climate change on international security tomorrow, we must all take action today," concluded the Prime Minister Janez Janša.