16.05.2008
Second phase of negotiations on the Open Skies Agreement between the EU and USA successfully underway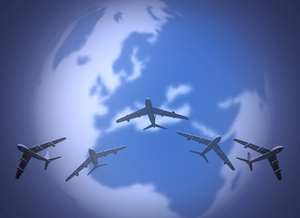 At the meeting held yesterday and today at Brdo, the EU and US delegations presented their positions for the second-phase of negotiations on the EU-US Open Skies Agreement.
Both sides used the opportunity to present their preliminary proposals as a basis for the preparation of practical solutions and negotiation modalities, and to determine the timeframe for negotiations. They agreed that the next round of negotiations would be held in September 2008 in Washington.
The two-day negotiations revealed a high level of understanding on both sides regarding certain outstanding issues, such as: further opening of market access, investment possibilities, environmental policy, further access to air traffic financed by the state and the provision of aircraft with flight crews.
After the conclusion of its Presidency, Slovenia will continue to actively participate in drafting common positions and further solutions. At the end of the negotiations, the participants signed a joint declaration that upholds the agreed timeframe and mode of further negotiations.