25.05.2008
Adjustment of Common Agricultural Policy – an Incentive for Response by Other EU Policies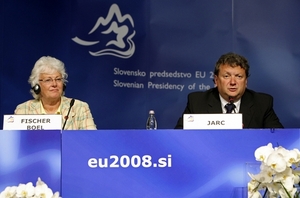 A three-day informal meeting of the agriculture ministers of the EU Member States started today in Maribor. The ministers will conclude their visit to Slovenia with a plenary session on Tuesday, 27 May 2008, at Brdo pri Kranju. On the initiative of the Slovenian Presidency, at the meeting the ministers will discuss climate change, biofuels, environmental protection, risk management in agriculture and food safety. For the first time, the agriculture ministers will also exchange views on the legislative proposals relating to the "review" of the reform of the Common Agricultural Policy (CAP), which will be presented by the European Commissioner for Agriculture and Rural Development, Mariann Fischer Boel.
The review of the CAP reform opens an important issue on new challenges and the adjustment of European agriculture to the changing global circumstances. In the conclusions adopted by the EU Council in March, the agriculture ministers stressed the need for risk management in agriculture and established that new challenges must receive a broader response, including through other EU policies.
"If we do not start adjusting European agriculture to the new challenges more ambitiously within the framework of the current changes to the common agricultural policy, define effective measures and provide sufficient financial resources for their implementation, we have not done enough. This will also prevent the other measures envisaged from being as effective as we want them to be," said the current President of the EU Agriculture and Fisheries Council, Slovenian Minister Iztok Jarc, at today's press conference.
He also stressed, "These new challenges do not only concern agriculture and the CAP, but also trade, the environment, energy and safety. The adjustment of the CAP can be only one of the steps towards resolving the changes that have occurred and an incentive for response by other EU policies."
According to Minister Jarc, agriculture needs to respond to climate change by reducing greenhouse gas emissions and at the same time adapting production to new climate conditions. It is necessary to assess the impact of biofuel production on global food safety, establish sustainability criteria for biofuel production and place greater emphasis on the research and development of second-generation biofuels.
In addition to environmental protection, Minister Jarc highlighted the rising prices of agricultural products, which is the reason why risk management in agriculture is gaining in importance. On account of the growing world population and increased demand for food, agricultural production will have to increase as well.
At the informal meeting, the ministers will discuss how the agricultural sector should be adjusted to these changes; in what way an appropriate balance could be found between delivering sufficient quality food at affordable prices for consumers on the one hand and ensuring the protection of the environment, cultural landscape and natural resources on the other hand; and whether the solutions contained in the legislative proposals are the proper answer to these challenges.