Airports
Jože Pučnik Airport Ljubljana
Slovenia's main international airport, is situated about 25 kilometres north of Ljubljana. The airport is well connected with the major European cities.
Jože Pučnik Airport Ljubljana
Zgornji Brnik 130 a, Brnik
Phone: +386 4 206 10 00
Internet: www.lju-airport.si

Flight information: +386 4 20 61 981

Media representatives are advised to use the regular transport services to and from the airport. The journey by bus takes approximately 45 minutes. Tickets can be purchased on the bus or at the bus station. For further information call: 090 4230 or visit Ljubljana Bus Station website.

The airport is also linked to Ljubljana by a shuttle service. The journey time is 30 minutes. Tickets can be purchased on the bus. During the informal ministerial meetings held in Slovenia a special shuttle service will be organised between the Airport and Brdo Conference Centre/Press Centre.
Please check at the Presidency Welcome Desk in the Arrivals Hall.

Maribor Airport (Letališče Maribor)
Maribor Airport is located in Slivnica, only a few kilometres from Maribor.
Airport Maribor
Letališka cesta 10, 2312 Orehova vas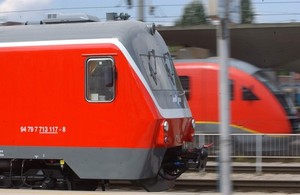 Phone: +386 2 629 11 75
E-mail: info@maribor-airport.si
Internet: www.maribor-airport.si

Public Transport
Trains
There are regular rail inland and international connections and many attractive offers for private and official train journeys. Train timetables, information on service points and online booking are available in English on the Slovenian Railways' website.

Buses
There is a comprehensive network of local bus services connecting Ljubljana with other towns and cities in Slovenia. Timetables and other information can be found at the Ljubljana Bus Station website.

Planes
Adria Airways – The Airline of Slovenia has a wealth of experience spanning over 46 years in charter and scheduled air traffic. The company is a regional member of the Star Alliance since 15 December 2004.Today the majority of Adria's business is in scheduled flights, its network links Ljubljana with more than 20 cities throughout Europeand offers excellent connections to South East Europe. Adria Airways


Return to top
Getting around by Car
You can reach Slovenia via Italy, Austria, Hungary or Croatia.
The Slovenian Highway Code is in line with European standards; however, there are some specific regulations a visitor should know. All motor vehicles must have their headlights on when travelling on all roads, even in daylight. Fog lights can be used when visibility is reduced to less than 50 metres. Foreign drivers are recommended to carry a spare set of light bulbs for their vehicle (compulsory for residents).
From 15 November to 15 March and outside these dates during winter weather conditions (e.g. snow, black ice, etc.) all cars and vehicles up to 3.5 tonnes must have winter equipment, i.e. winter tyres on all four wheels, or summer tyres on all four wheels, and carry snow chains. In both cases, the minimum tyre tread depth must be 3mm.
Permissible blood alcohol levels are 0.5 g/L for drivers of  private cars or motorcycles and 0.0 g/L for professional drivers.
Traffic information for Slovenia is available from DARS Traffic Information Centre (24 hours a day) or from AMZS (Automobile Association of Slovenia), which includes an online route planner:
DARS Traffic Information Centre
Phone: +386 1 518 8 518
Internet: www.promet.si


AMZS Information Centre
Phone: +386 1 530 53 00
Internet: www.amzs.si


Return to top
Customs and Travel Documents
Visas and Schengen
Visa requirements must be met before arrival in the Republic of Slovenia. In order to arrive on time, it is advisable to apply for visas at the earliest possible opportunity.
Please note that media representatives from countries requiring a visa have to apply to a diplomatic or consular mission of Slovenia or to a diplomatic or consular mission of a member state of the Schengen Agreement that represents Slovenia and is competent to grant a visa if Slovenia does not have a mission in the applicant's country of residence.
For further details and a list of nationalities requiring a visa please visit the Ministry of Foreign Affairs website.

Customs Regulations for Travellers
The Internet pages of the Customs Administration of the Republic of Slovenia

provide information on the importation of alcoholic beverages and tobacco products, restrictions applying to pharmaceutical products, plants, firearms etc.
ATA Carnet
The ATA Carnet is an international customs document that permits duty-free and tax-free temporary import of commercial samples, professional equipment, and goods for presentation or use at trade fairs, shows, exhibitions and similar functions. The web site of the International Chamber of Commerce

provides an extensive information on the ATA Carnet.

Return to top
More Tips for Visitors
Banking, Credit Cards and ATM's
On 1 January 2007 the euro became the official currency in Slovenia, for both cash and non-cash transactions; non-cash payments with credit or debit cards are possible anywhere through POS terminals. Cards accepted for payment are MasterCard, Maestro, Visa, Visa Electron, Amex and Diners. You can also withdraw cash from the automatic telling machines of different banks located across the country. Cash withdrawal is possible mainly with MasterCard and Visa cards. Withdrawals can also be made using Maestro, Cirrus and Visa Electron Plus, where indicated by stickers on individual machines.
Banks are open weekdays between 9.00 and 12.00 and 14.00 and 17.00, and some on Saturdays between 9.00 and 12.00.
Money can also be changed in exchange offices, at hotel reception desks, tourist agencies, petrol stations and larger supermarkets.
Post Offices
Post offices are open from 8.00 to 18.00 on weekdays and from 8.00 to 12.00 on Saturdays.
Shops
Opening hours of shops are flexible. Some grocery stores are also open on Sunday.
Weekdays: from 07.00/09.00 to 20.00/21.00
Saturdays: from 09.00 to 14.00/18.00
Smoking
As of August 2007, the law prohibits smoking in all indoor public places and work areas in Slovenia. Smokers should use outdoor areas.
Electricity
Electric current in Slovenia runs at 230 volts, 50 Hz. Wall sockets are for two-pin plugs, and adapters can be bought at airports, department stores, hardware stores and specialist shops.
Telephone System
Country code: +386
Code for international calls: 00
Directory enquiries: 1188
International enquiries 1180
Emergency Numbers
Police: 113
Ambulance: 112
Fire Service: 112
Road Assistance: 1987
Local time
Central European Time: GMT + 1
Central European Summer Time: GMT + 2 (end of March to end of October)

Return to top