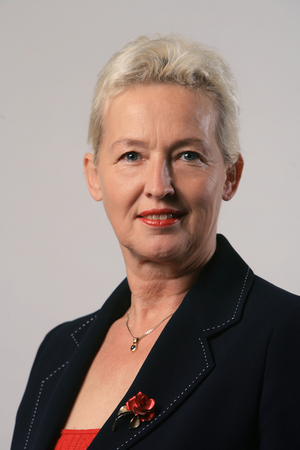 Zofija Mazej Kukovič was born in 1955 at Črna na Koroškem.In 1980, she graduated from the Department of Informatics in the Faculty of Organizational Sciences at the University of Maribor and in 1989 she also took a degree in electrotechnics-electronics.In 1980, she passed the proficiency examination pursuant to the Construction Act.In 1995, she enrolled for her MBAstudies at the Faculty of Management in Brdo pri Kranju, which she completed a year later. In 2002, she upgraded her knowledge at the University of Texas on the subject of crisis management.
In 1974, she was employed in the Development Department of the Velenje Mine as a design engineer, and from 1977 to 1989 worked as a design engineer for control and regulation of technological systems in Slovenia and abroad for the ESO company.When the company was in crisis, she took charge of a part of sales and engineering.In 1992, the ESO company was divided into two parts, and Zofija Mazej Kukovič became Head of the ESO Montaža company, which was then heading towards bankruptcy proceedings.Through studies and additional training, she prepared and carried out a strategic transition of ESO Montaža to the present Esotech d.d., a transition from a company in insolvency and with human resource problems to the present company dealing with high-technologies.
In addition to her work, in recent years she has dedicated her time to civil associations and lectured at Slovene and international conferences on topics of environmental protection and the related issues of health, business excellence, innovation and the application of the knowledge acquired at institutes into practice.She has received numerous acknowledgements for her work: in 2002, the Jožef Stefan Institute acknowledged her achievements with an award for putting knowledge from institutes into practice; she was awarded the Personality of the Year 2006 award for economy by the newspaper Delo; and this year, she received an acknowledgement from the Association for Project Management for the development of project management in Slovenia.She is a member of numerous professional associations, among which she is the Director of the economic interest association Slovenian Ecology Cluster, a member of the Management Board of the Slovenian Managers Association, a member of the Management Board of Europa Donna – the European Breast Cancer Coalition, and a member of the Management Board of the Chamber of Commerce and Industry of Slovenia for the Savinjsko-Šaleška region.
She is fluent in English, Croatian and Serbian and also has basic knowledge of German.