01.04.2008
Minister of Foreign Affairs Dimitrij Rupel in the European Parliament on Gymnich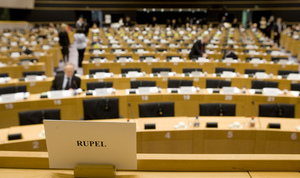 The President of the EU General Affairs and External Relations Council, Slovenian Foreign Minister Dimitrij Rupel reported today to the Committee on Foreign Affairs of the European Parliament on the EU foreign ministers' informal meeting (Gymnich), which was held at the Brdo Congress Centre in Slovenia on 28 and 29 March. The Slovenian Foreign Minister talked about the main topics of the 2-day discussion in which the ministers addressed a number of important issues. The ministers discussed the Middle East Peace Process with a special emphasis on the role of Syria, the relations between the European Union and the Russian Federation, the European perspective regarding the Western Balkans, and intercultural dialogue, and in this context, Tibet and the relations with Islam.
Minister Rupel informed the MEPs of the intention to devote greater attention to coordinating the contacts of EU Member States and institutions with Syria; the support of the EU for the Annapolis process was also reiterated at the meeting.
As regards EU-Russia relations, most countries support the earliest possible approval of the negotiation mandate and the initiation of negotiations on the new framework agreement. The foreign ministers expressed the hope that Russia would become a trustworthy and transparent partner, including through its membership in the World Trade Organisation.
Concerning the Western Balkans, the ministers reiterated their support with regard to all countries in this region having a European perspective. Minister Rupel stated that they had analysed the situation in all countries in detail, also in cooperation with their ministers or representatives. "The region is highly specific in nature and needs special incentives, particularly in the countries where the process of EU integration is faced with a certain lack of political will and poor administrative capacity. The EU needs to be especially determined and courageous in making its presence felt in the region," stated the Slovenian Foreign Minister.
Afterwards, Minister Rupel replied to questions from the MEPs.