07.04.2008
EU Transport Ministers support in principle a compromise proposal of the Slovenian Presidency on the road transport package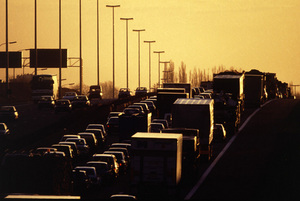 At today's meeting of the Transport, Telecommunications and Energy Council, the EU Transport Ministers supported in principle the elements prepared by the Slovenian Presidency on cabotage and on the national register. This allows discussions on the three EU road transport regulations to proceed.
During the discussions on the three regulations - on access to the international road haulage market, on pursue of  occupation of road transport operator and on access to the international market for coach and bus services – the President of EU Transport Council, the Slovenian Transport Minister, Mr. Radovan Žerjav, stated that the Slovenian Presidency had prepared a compromise proposal which seeks to establish a balance between the major reservations of the Member States and the objectives set forth in the initial  proposals of the European Commission.
As he stressed, the intention of the road transport package is to simplify and unify the legislative framework. "The renewal of legislation is of key importance, bearing in mind the rapid growth of the EU road transport sector, which is one of the pillars of our internal market, and free flow of goods and citizens. The proposed changes bring not only rationalisation of the existing legislation, but also the introduction of new provisions which are aimed at lifting the administrative burden and sanctioning infringements", Mr. Žerjav underlined during the debate.
The key elements of the compromise proposal of the Slovenian Presidency on road transport focus on the two main open issues: cabotage and national electronic registers.
As far as cabotage is concerned, the Presidency tried to strike a balance between those in favour of further opening of the road transport market and more conservative positions. Simultaneously, it tried to set rules on the permitted scope of cabotage. The compromise proposes to allow three cabotage operations in a hosting Member State within seven days after the conclusion of the international operation.
Several Member States demanded additional liberalisation of cabotage by permitting transit cabotage on return trips. By this proposal, they aim to achieve further rationalisation in the sector, increase competitiveness and contribute to environmental goals by avoiding empty journeys.
As far as registers are concerned, the Presidency proposal sets forth the establishment of national electronic registers, which will be interconnected to further strengthen control mechanisms with a view to reducing the administrative burden for operators and Member States. The registers are to be established in 18 months after the entry into force of the regulation.
On the basis of today's discussion, the Presidency will proceed with its work on the Council level and try to reach an appropriate compromise by June.