07.04.2008
EU Transport Ministers adopt several decisions in the aviation field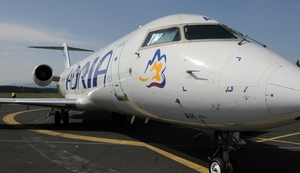 EU transport ministers today discussed the proposal for a directive on airport charges and reached a political agreement regarding this issue. The solutions proposed by the directive– which will apply to all airports handling more than 5 million passengers per year and to the largest airport in each Member State – encompass the basic principles to be respected by airport operators when they determine their airport charges.
"For the first time, the directive regulates this issue at Community level and introduces the principles of banning discrimination, differentiation of charges depending on the quality of services provided and the establishment of an independent body to act as an arbitrator in the event of disputes. All these measures will contribute to better transparency in determining charges in the aviation sector" said President of the Transport Council, the Slovenian Transport Minister  Radovan Žerjav.
With regard to the proposal for a regulation on the Code of Conduct for Computerised Reservation Systems (CRS), the ministers agreed to a general approach. Minister Žerjav stated that the current proposal aims to significantly simplify the Code of Conduct and to reinforce competition between the providers of the computerised reservation systems. At the same time, basic safeguards against potential competitive abuses should be maintained in order to ensure the provision of neutral information to consumers. Furthermore, the proposed Regulation ensures that rail services that are integrated into an air transport CRS receive non-discriminatory treatment in the CRS. 
The ministers also adopted conclusions on the Commission Communication entitled "An Agenda for Sustainable Future in General and Business Aviation". The conclusions will serve the Commission as a monitoring tool for the development of this sector in the future. As Minister Žerjav reiterated, the Commission Communication is "an interesting and useful resume of the various policy issues which have an impact upon the general and business aviation sector. It also serves to highlight just how important this sector is both to the wider aviation sector and indeed to society as a whole".