09.04.2008
National Archives of Slovenia host DLM Forum
EU Archivists meet and discuss MoReq2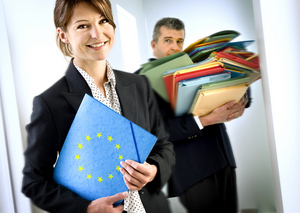 The DLM Forum, a multi-disciplinary community of public archives and interested parties in archive, records and document and information life-cycle management throughout the EU, today concludes two days of meetings held in Ljubljana, Slovenia.
The DLM Forum meeting was hosted by the National Archives of Slovenia. Representatives of organisations from over 30 European countries attended the two-day meeting comprising discussions and presentations on topics of particular interest in the information management and archive fields. The meeting heard presentations dealing with some of the most important questions in archive management today, including issues relating to the legal value of records, the record life cycle from capture to archiving, data protection, metadata schemas and MoReq2 (Model Requirements for the Management of Electronic Records). Speakers and contributions came from the National Archives of Slovenia, German National Archives, National Archives of Finland, National Archives of UK, French Archives Directorate, Danish National Archives, University of Tampere and information management specialists in the private sector.
The sessions were opened by a keynote address from Tatjana Hajtnik of the National Archives of Slovenia who discussed records through the life cycle from capture to archiving.
The DLM presentations included several sessions on the recently published MoReq2 specification. Related presentations included discussions on regulation, testing and adoption as well as on the future for MoReq2. This standard is vital to work in information and record management and archives.