09.04.2008
President of the JHA Council Dragutin Mate attends political trialogue on the Return Directive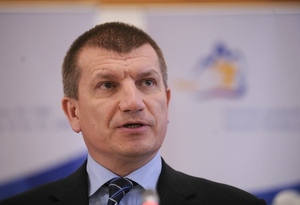 Dragutin Mate, Slovenian Minister of the Interior and President of the JHA Council, attended a political trialogue on the Directive of the European Parliament and of the Council on common standards and procedures in Member States for returning illegally staying third-country nationals (Return Directive) in Brussels today. The political trialogue was conducted with MEP Manfred Weber, the European Parliament's rapporteur on the Return Directive, together with members of other political groups, and with representatives of the European Commission.
Minister Mate said that the discussion at the February Council meeting showed that the Member States wanted to adopt an instrument that would enable effective return. "Today we continued negotiations with the European Parliament on a number of open questions and achieved a compromise on certain articles."
The proposal for the Directive has been discussed in the EU institutions at different levels for almost three years now. At its last meeting, the Justice and Home Affairs Council again approved the Presidency's mandate for negotiations with the European Parliament to adopt the Directive in the first reading. During the political trialogue, which was not concluded due to time limitations and is to be continued, some topics on which there is no agreement between the Council and the Parliament were discussed.