09.04.2008
Two-day EU Troika meeting with Central Asian countries opens in Ashgabat, Turkmenistan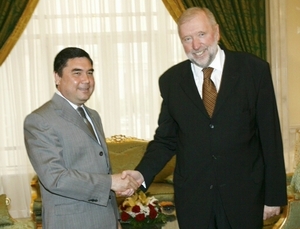 A two-day meeting between the European Union and the countries of Central Asia chaired by the current President of the EU General Affairs and External Relations Council, Slovenian Foreign Minister Dimitrij Rupel, began today in the Turkmen capital of Ashgabat. The meeting will be attended by representatives of Turkmenistan, Tajikistan, Kyrgyzstan, Uzbekistan and Kazakhstan. Today was devoted to bilateral meetings; tomorrow will be given over to a plenary meeting.
The central topic of all the meetings has been the deployment of the EU Strategy for Central Asia, a strategy paper adopted by the EU Council of Ministers in May last year. The document underlines that the security and stability of Central Asia are of crucial importance to the European Union. It also deals with regional cooperation, enforcing human rights, the rule of law, the process of democratisation, concern for youth and education, fostering economic development, trade and investment, links with the EU in the area of energy and transport, concern for environmental protection and conservation of water resources, combating common threats and challenges and building bridges between people (intercultural dialogue).
These issues were also raised during today's meetings between the EU Troika and the representatives of all five Central Asian countries.
For Turkmenistan, in addition to human rights and education, the Slovenian Foreign Minister focused on the priorities of economic cooperation and links in the area of energy, a field in which Turkmenistan has a key part in European Union-Central Asia relations.
At the meeting with the representatives of Tajikistan, Dr Rupel highlighted the water supply issue. Tajikistan has the largest water reserves in Central Asia available and is therefore of particular strategic significance. Consequently, the European Union has proposed a number of water resource management projects, linked with environmental protection projects, for which it has earmarked considerable amounts of funding.
Similar projects have been prepared for Kyrgyzstan which also disposes of extensive water resources. In addition, Dr Rupel pointed up the need for strengthening dialogue with the EU in the area of human rights at this meeting.
At the meeting with the representatives of Uzbekistan, the Slovenian Foreign Minister reported that the EU had assessed as positive certain measures adopted in the area of human rights, including the abolition of death penalty, signature of the ILO Convention on eliminating child labour and the release from prison of certain representatives of human rights organisations. He stressed that there were still, nonetheless, a great number of human rights campaigners in prison and delivered a list of prisoners for whose release the European Union is calling. Dr Rupel invited the government of Uzbekistan to cooperate fully with the United Nations special rapporteurs on eliminating torture and ensuring the freedom of the media.