18.04.2008
Dragutin Mate, President of the JHA Council, to report on the EU-US Ministerial Troika at the Plenary Session of the European Parliament, and to discuss the Return Directive at the continuation of the political trialogue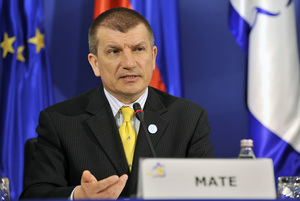 On 23 April 2008 Dragutin Mate, Slovenian Minister of the Interior and President of the JHA Council, will report to the Members of the European Parliament in Strasbourg on the meeting of the troika of justice and home affairs ministers of the EU with the representatives of the United States of America, which was held on 12 and 13 March 2008 at Brdo pri Kranju. Afterwards Minister Mate will attend the continuation of the political trialogue between the Presidency, European Commission and European Parliament, on the Directive of the European Parliament and of the Council on common standards and procedures in Member States for returning illegally-staying third country nationals (Return Directive).
At the EU-US justice and home affairs ministerial troika meeting the discussion focused on the changes of visa legislation in the USA and other topics relating to terrorism, migrations, visa policy and fight against crime in the Western Balkans. In these discussions the Slovenian Presidency represented EU interests. Minister Mate already informed the Committee on Civil Liberties, Justice and Home Affairs (LIBE) on the outcomes of this meeting and on 23 April he will address the plenary.
In the political trialogue, which was held on 9 April in Brussels and remained unfinished due to time restraints, some open questions regarding the proposed Draft Directive were discussed, on which there is yet no agreement between the Council and the Parliament. At the meeting agreement was reached on most of the text of the Directive, for which the presidency was given the mandate at the February Council of Ministers. The purpose of the trialogue is to reach a consensus enabling the Directive to be adopted in the first reading, which is one of the priorities of the Slovenian presidency of the EU.