18.04.2008
Formal Opening of the Youth Event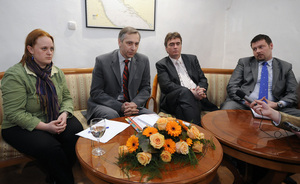 The Youth Event entitled 'Promoting the Participation of Young People with Fewer Opportunities in Society' opened today, 18 April 2008, at Fužinski castle. The event will be attended by more than 150 young participants from EU Member States, EFTA countries and Western Balkans countries.
At the opening ceremony the young people were addressed by Dr Milan Zver, Slovenian Minister of Education and Sport and current President of the EU Education and Youth Council. He pointed out, "Young people are our future and no young individual may be forgotten or lost from the systemic point of view. This threat is particularly pressing in the case of those that do not have a good starting position to begin with," he said, "Therefore, conferences such as the one today are a splendid opportunity for us, decision makers, to listen to you, young people, and give you an opportunity to remind us of the key aspects in taking into consideration your potential and the obstacles you face, as well as conveying to young people the message that they can and must decide their own fate."
A similar opinion was expressed by Mr Ján Figel', European Commissioner for Education, Training, Culture and Youth, who stressed the importance of both States and the European Union listening to young people, their initiatives, wishes and proposals and taking the latter into account in youth policy.
The young people were also addressed by non-governmental representatives, Mr Matjaž Štolfa, President of the National Youth Council of Slovenia, and Ms Bettina Schwarzmayer, European Youth Forum President, who played a key part in preparing the conference themes. In their speeches, they both emphasised the importance of discussing the issue of young people with fewer opportunities. "People think of youth as being the most pleasant and carefree time of life, but it's nothing of the sort," said Bettina Schwarzmayer, adding, "In the age of globalisation, unemployment and fierce competition, there are ever more young people, who are underprivileged and deprived, and this is something we will have to change."
Tomorrow, 19 April 2008, the young people will take part in various workshops associated with the subject of young people with fewer opportunities and the role of young people in intercultural dialogue. The youth event, which has been the best attended so far in terms of the number of invitees, will conclude on Sunday 20 April 2008, when the young people will present the conclusions of the event at the Meeting of Directors-General responsible for the implementation of youth policy at Brdo pri Kranju.