21.04.2008
Presidents of Justice and Home Affairs Council Dr Lovro Šturm and Dragutin Mate to attend 8th EU-Russia Permanent Partnership Council Meeting on Freedom, Security and Justice - Announcement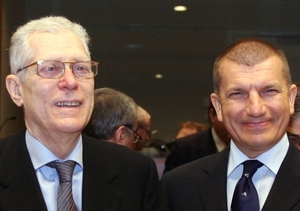 As part of the Trio Presidency, Dr Lovro Šturm, Minister of Justice, and Dragutin Mate, Minister of the Interior, will attend the 8th EU-Russia Permanent Partnership Council Meeting on Freedom, Security and Justice, which opens on 24 April 2008 with a working dinner and a discussion on the fight against drugs. The meeting will continue the following day with a formal session and close with a press conference.
The European Union cooperates with Russia in four common spaces based on five-year roadmaps, one of them being the common space of freedom, security and justice.
In the area of justice, the discussions will focus on possibilities for future cooperation in civil and commercial law, including the possibility of signing an agreement. Cooperation in criminal matters will also be discussed, including extradition request, exchanged with the purpose of interrogating suspects. Representatives of the EU and Russia will also discuss possibilities for future cooperation between Eurojust and the Russian authorities.
As for security, the topics of this meeting are the implementation of the EU-Russia visa facilitation and readmission agreements and the visa dialogue between the EU and Russia, which can only continue provided that the two agreements are fully and correctly implemented. Both agreements are an important step towards ensuring travel facilitations for citizens, while also acting as instruments of the fight against illegal migrations. In the field of border cooperation, the representatives will discuss the strengthening of cooperation between the European Agency for the Management of Operational Cooperation at the External Borders (FRONTEX) and the Federal Border Guard Service of the Russian Federation, possibilities for improving local border traffic, information on border agreements and the situation as regards the delimitation of borders between Russia and its neighbouring countries, members of the EU. Efficient border management can have directs effects as it can contribute to the fight against illegal migrations, trafficking in human beings and terrorism; therefore the EU will keep up its efforts for mutual trust and strengthening security at the common border.
In the area of security, the ministers will discuss joint initiatives for the fight against cyber crime, cooperation between the European Police College (Cepol) and Russia, further cooperation between Europol and Russia and data protection. As the fight against organised crime is one of the priorities of the EU-Russia cooperation, the EU initiative for drawing up the ROCTA – Russian Organised Crime Threat Assessment – will be discussed. As for illicit drugs, the ministers will discuss the fight against synthetic and other drugs coming from Afghanistan, and the control of precursors, which requires a regional approach.