21.04.2008
Changes in youth policy urgently needed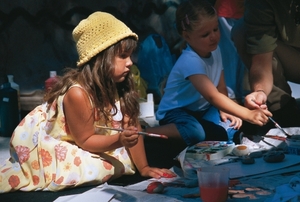 The Meeting of Directors-General for Youth, chaired by Zorko Škvor, the Slovenian Director-General for Youth, concluded today, 21 April 2008. The main topics of the meeting were future youth policy and young people with fewer opportunities.
The meeting began yesterday, 20 April 2008, when the Directors-General had a meeting with the participants of the youth event and listened to what the young people had to say. Today, the Directors-General were addressed by Dr Milan Zver, the Slovenian Minister for Education and Sport and current President of the EU Education, Youth and Culture Council, who expressed concern regarding demographic changes, "The proportion of young people is declining in comparison to older people. Europe is becoming an elderly society and so the development of youth policy is increasingly important." The Minister pointed out that young people should be given more opportunities to be involved in shaping the fundamental instruments and strategies of youth policy. "One fifth of young people in Europe live on the poverty line, 38% of the young people are unemployed, there has been a decline in literacy, etc. These are facts indicating that changes are urgently needed in youth policy but also in education and economic policy and that young people have to become actively involved in this," commented the Minister in his address. In discussions on the future of youth policy at their meeting, the Directors-General agreed with these findings. The key message of the debate was the need for an integrated approach to future youth policy and even more closely structured dialogue with young people. "Only such an approach will improve the position of young people and thus the future of Europe," pointed out Zorko Škvor, in the chair.
The Directors-General also discussed the issue of young people with fewer opportunities. Certain countries presented examples of good practices, and a proposal for a resolution on young people with fewer opportunities comprising individual actions to be deployed by the EU Member States in this area was also discussed. "The resolution is a first step towards improving the position of young people with fewer opportunities and so I hope it will be adopted at the May meeting of the Education, Youth and Culture Council," announced the chairman after the meeting. The resolution is expected to be adopted at the EU Council of Ministers in May.
At the end of the meeting, the Directors-General adopted conclusions that would serve as guidelines for the Council of Ministers for Education, Youth and Culture to be held in May.