22.04.2008
Janez Lenarčič: Our Common Endeavours and Good Cooperation with the European Parliament have already borne Fruit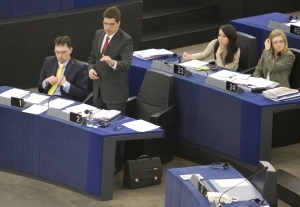 "Our common endeavours and good cooperation have already borne fruit. Much of what we set out to do has already been done" – with these words the State Secretary for European Affairs Janez Lenarčič thanked the European Parliament for its creative cooperation at today's meeting with the Conference of Committee Chairmen. The purpose of today's meeting with the Committee Chairmen was to review and evaluate the first half of the Slovenian Presidency, and to discuss the concrete plans foreseen by the Presidency for the rest of its term.
In his address, State Secretary Lenarčič updated the Committee Chairmen on progress made on the priority dossiers of the Slovenian Presidency of the EU Council, paying particular attention to the agreements reached by Heads of State and Government at the March summit. He pointed out individual achievements of various Council configurations, and the legislative acts already agreed by the Council and the European Parliament during the Slovenian Presidency, for example the Consumer Credit Directive, the "Goods Package", the Customs Code, the Postal Directive and the establishment of the European Institute of Technology. A major breakthrough was also achieved on the Galileo Implementation Regulation proposal.
The State Secretary also presented plans for the second half of the Presidency. Legal acts will represent a key priority, and the Slovenian Presidency will strive to reach an agreement on, inter alia, the third legislative package on the internal energy market, the sustainability criteria for biofuels, and some acts in the field of justice and home affairs. The Slovenian Presidency will continue to pay a great deal of attention to strengthening the European perspective of the Western Balkan countries. Preparations for the June European Council will be one of the most significant tasks, while four important summits with third countries are also in preparation: Japan, Latin America and the Caribbean, the Russian Federation, and the United States of America. The State Secretary's presentation was followed by questions from MEPs, with a particular focus on the concrete proposals and initiatives through which the Slovenian Presidency will seek to achieve its objectives.
State Secretary Lenarčič met with the Conference of Committee Chairmen for the first time last November, when he introduced the programme and priority tasks of the Slovenian Presidency.