22.04.2008
Slovenian Foreign Minister Dimitrij Rupel presents EU stance at Conference of Neighbouring Countries of Iraq in Kuwait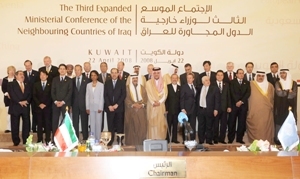 At the expanded Conference of Iraq's Neighbours, held today in Kuwait, the President of the EU General Affairs and External Relations Council, Slovenian Minister of Foreign Affairs Dr Dimitrij Rupel, said that the European Union affirms its support for efforts to build a safe, stable, democratic, successful and unified Iraq and confirms its commitment to an independent, sovereign, unified and territorially integrated Iraq.
Dr Rupel, speaking on behalf of the EU Council Presidency, started by assessing that maintenance of the unity and territorial integrity of Iraq was an essential issue and should be respected by all. The Slovenian Foreign Minister assessed that it is of key importance that Iraq's neighbours and partners in the region constructively pursue the aim of peace and stability in the region, and pointed out that the meeting of Iraq's neighbouring countries shows just such a commitment. The neighbouring countries may contribute a great deal, including in terms of preventing arms smuggling into Iraq and may, through their regular forums, provide a unique opportunity for dialogue and cooperation in the region. The European Union supports three working groups dealing with refugees, cooperation in the area of security, and energy issues;  at the same time it encourages countries from the region to open embassies in Baghdad, as Bahrain did recently. The task of the international community and particularly of the neighbouring countries is to support and facilitate the difficult process of reconciliation and stabilisation of Iraq and to prevent foreign intervention which could jeopardise the process.
The Slovenian Foreign Minister also said that the European Union reaffirms its support to the lawfully and democratically elected Government of the Prime Minister, Nouri Maliki, and other democratically elected institutions in Iraq. The attacks on coalition forces which threaten security and stability in Iraq are completely unacceptable. The European Union entirely supports the endeavours of the United Nations and advocates full compliance with UN Security Council Resolution No 1770, adopted in August last year, added Dr Rupel.
In addition to the representatives of Iraq, neighbouring countries and countries of the region, the conference is also being attended by representatives of other important countries, including US State Secretary Condoleezza Rice, Russian Foreign Minister Sergei Lavrov, and David Miliband and Bernard Kouchner, the British and French Foreign Ministers.