22.04.2008
At the Twelfth session of UNCTAD Minister Turk emphasized gender equality and women's empowerment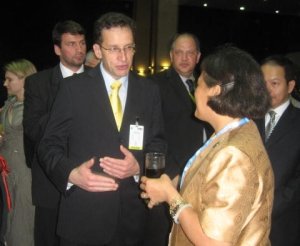 On the margins of the Twelfth session of the United Nations Conference on Trade and Development (UNCTAD XII) in Ghana, Dr Žiga Turk, the Slovenian Minister for Growth, and Andrej Šter, State Secretary at the Ministry of Foreign Affairs, held a meeting with representatives of the European Parliament's Committee on International Trade (INTA) and Committee on Development (DEVE). They discussed the UNCTAD conclusions , migration and development. Dr Turk commented, "We have to strive for good governance, rule of law, transparency, respect for human rights, gender equality and the empowerment of women." The Slovenian Minister also attended the roundtable 'Globalization, development and poverty reduction: their social and gender dimensions'.
On behalf of the EU, Dr Turk pointed out that the reduction of poverty in developing countries is one of the core overarching objectives of EU development policy. "The European Consensus on Development also emphasises the EU's commitment to respect for human rights, fundamental freedoms, peace, democracy, gender equality, the rule of law, solidarity and justice, and pays special attention to the needs of Africa and Least Developed Countries."
Dr Turk further emphasised that the European Union recognises that gender equality and women's empowerment are of fundamental importance to achieving sustainable and equitable development and the eradication of poverty. The joint European Union commitment to gender equality and women's empowerment is reinforced by the Conclusions on Gender Equality and Women's Empowerment in Development Cooperation adopted by the General Affairs and External Relations Council in May 2007.
In these Conclusions, the Council recognizes that the economic empowerment of women and their enjoyment of human rights are interdependent and mutually reinforcing and underlines the importance of women having equal access to employment and economic resources, decent work, education, vocational training, information, communication and markets, as a means to further the advancement and empowerment of women and girls.
The Slovenian Minister for Growth, Dr Turk, finished his speech by saying that gender equality and women's empowerment should be mainstreamed into all UNCTAD's policies and practices. UNCTAD should strengthen its work on the links between trade and internationally agreed development goals and objectives, in particular the Millennium Development Goals.