25.04.2008
State Secretary Šter attends the XII UNCTAD Conference on Strengthening UNCTAD – Enhancing its Impact and Institutional Effectiveness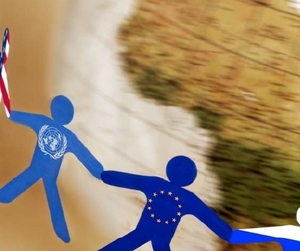 State Secretary Šter, who is attending the XII UNCTAD Conference in Ghana, was one of the panellists at the round table regarding UNCTAD's reforms. He said that reforming UNCTAD has been a clear priority area for the EU. "We need to ensure that UNCTAD adopts the necessary institutional reform measures to enable it to deliver and equally ensure that UNCTAD's future work is compatible with overall UN efforts on coherence and reform and be recognised as the priority international partner in trade and development," he said.
At the beginning of the conference he expressed the view that the EU believes that all three UNCTAD pillars (research and analysis, consensus building in intergovernmental process, capacity building, and technical assistance) need consideration if we would like to enable UNCTAD to move forward and deliver concrete results for developing countries. "UNCTAD should consolidate its role as a knowledge-based organisation, and through research and analysis and through intergovernmental process it should aim to support action-oriented capacity building and trade-related technical assistance addressing the evolving needs of the developing countries." All three pillars must be thematically aligned and interact with an overall orientation towards practical and pragmatic development solutions. 
State secretary Šter furthermore pointed out that the full potential of the intergovernmental machinery has not been realised. It was created from the perspective of bringing together stakeholders in the international trading system in order to form a broad-based coalition and to forge realistic solutions regarding economic development, reflecting the concerns and needs of developing countries, and particularly those of the least developed and other countries, such as landlocked, small, and vulnerable economies. "The functions of the bodies within the intergovernmental machinery must, therefore, be more clearly distinguished and the links between the different levels reinforced."
At the end of the conference he expressed his belief that UNCTAD should strive towards a clear division of labour with other international organizations within and outside the UN system, while cooperating with them where there is scope for complementarity, synergies, and greater efficiency. "It should, moreover, deepen its partnerships with non-state actors, including the private sector, think tanks, academia, and civil society organizations," State Secretary Šter concluded.