29.04.2008
Dr Rupel heads EU Troika-Russia meeting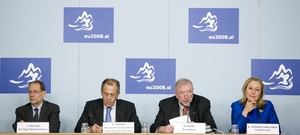 The President of the EU General Affairs and External Relations Council, Slovenian Foreign Minister Dimitrij Rupel, chaired a ministerial meeting between the EU Troika and the Russian Federation in Luxembourg. Apart from Dr Rupel, the EU delegation included the EU High Representative for the common foreign and security policy, Javier Solana, and European Commissioner Benita Ferrero-Waldner, while the Russian delegation was headed by the Russian Foreign Minister, Sergei Lavrov.
The Slovenian Minister for Foreign Affairs, Dr Rupel, underlined the importance of the meeting as part of the preparations for the EU-Russian Federation Summit in Hanti Mansiisk in June. It will also be the first opportunity for a meeting with the new Russian President Medvedev.
The EU is looking forward to this meeting because Russia is an important partner with which the EU wishes to intensify mutual cooperation. In this context, the Slovenian Foreign Minister assured his counterparts that the mandate for negotiations on the new partnership agreement and cooperation between the EU and Russia received overwhelming consent at today's EU Council debate, with just a few aspects that still need clarification, so he expects this work to be concluded in the near future.
The GAERC President also ensured his fellow ministers that the EU supports the rapid conclusion of negotiations for Russia's entry into the World Trade Organization;  following which the European Union can immediately start to discuss the conclusion of a free trade agreement with the Russian Federation.
The issue of human rights, to which the EU attaches particular importance, was also discussed. Dr Rupel observed that President Medvedev's positions on this issue are of particular importance. He also expressed the hope that Russia would ratify the Protocol on the Reform of the European Court of Human Rights as soon as possible.
At the end, the Slovenian Foreign Minister emphasised that the European Union and Russia share a responsibility for global stability and security; in the part of the meeting focusing on political dialogue, Dr Rupel also expressed concern about tensions between Georgia and Russia in relation to the 'frozen conflicts' in Abkhazia and South Ossetia.