29.04.2008
EU General Affairs and External Relations Council (GAERC): Zimbabwe, Uzbekistan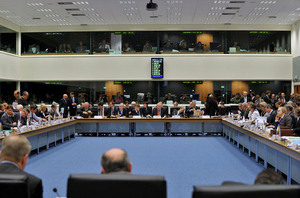 The General Affairs and External Relations Council, chaired by the Minister for Foreign Affairs of Slovenia, Dr Dimitrij Rupel, meets today in Luxembourg. At the beginning of the meeting, the Council examined the situation in Zimbabwe. In the conclusions of today's Council meeting, the EU Foreign Ministers judged that it was "unacceptable and unjustifiable" not to have declared the results of the presidential elections four weeks after the ballot. The EU therefore calls for the election results to be announced immediately, as delay creates suspicion as to the credibility of the election process. The EU moreover condemns the post-election violence in Zimbabwe, assessing that the serious incidents in question are directed against those in favour of democratic changes in the country; recent arrests have shown that the Government of Zimbabwe intends to enable the electoral commission to perform its work properly. In the Council conclusions, the Ministers also emphasised the need to respect the right to demonstrate and the media freedom necessary to ensure free and fair elections. The Ministers also confirmed, in their conclusions, that weapons that could be used against demonstrators would not be sold to Zimbabwe by EU countries. The EU will certainly continue to monitor the situation in this African country very closely.
At the end of the debate on this issue, the President of the Council, Dr Rupel, thanked European Commissioner Louis Michel, who is responsible for monitoring and reporting on developments in Zimbabwe. "It is essential that we continue to work hard, using every available channel, and increase the pressure on Dr Mugabe to respect the will of the electorate," said Dr Rupel.
Before that, the EU Council had, without discussion, extended the suspension of visa restrictions for Uzbekistan. The restrictions are part of the sanctions the EU imposed on Uzbekistan in response to human rights violations and include a ban on EU arms exports to Uzbekistan and a ban on the issue of visas to persons associated with the massacre in the town of Andijon in May 2005. At today's Council meeting, the Ministers agreed to extend the suspension of the visa restriction for a period of six months, subject to a review of the decision in three months' time.