29.04.2008
Conclusion of the EU General Affairs and External Relations Council meeting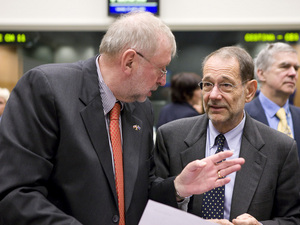 Today's EU General Affairs and External Relations Council (GAERC) meeting, presided over by Slovenian Foreign Minister Dimitrij Rupel, addressed a number of other international issues.
As regards Burma/Myanmar, the GAERC Council positively assessed the calling of a constitutional referendum; however, it expressed concern regarding the content of the draft constitution and the intimidation in the country. The EU supports the initiative of the UN and its Special Envoy Gambari; the recently adopted restrictive measures have been extended for 12 months.
With regard to the Middle East Peace Process, the GAERC Council's debate yielded no conclusions and was held as a preparation for the meeting of both the Quartet and the ad hoc Steering Committee to take place in London on 2 May. Minister Rupel welcomed Russia's initiative to organise a meeting in Moscow, which will provide an opportunity to continue endeavours towards peace. No visible progress has been made since the Annapolis conference, and the European Union would like to accelerate this process. The Slovenian Foreign Minister also pointed to concerns over the humanitarian situation in Gaza.
A discussion on Iraq was held, but there were no conclusions. Minister Rupel reported on his recent talks with Iraqi Foreign Minister Zebari; Iraqi Prime Minister Maliki explained during his recent visit to Brussels that Iraq was witnessing substantial progress in the field of security and national reconciliation. The Union welcomes this news; however, it would like to point out that the situation is still unstable and unresolved and that the fighting in Baghdad and Basra and the terrorist attacks still continue. The EU supports all endeavours by the United Nations to stabilize Iraq.
As regards Pakistan, the GAERC Council welcomes the progress in the democratic process following the election of 18 February. The European Union supports the fight of the Pakistani Government against terrorism and violence and its endeavours towards democratic order; it will provide support to democratic institutions, legislative reforms, and efforts to ensure the participation of citizens in the election. Minister Rupel highlighted the EU's role in establishing the rule of law, pointed to the significance of Pakistan's cooperation with its neighbours, and spoke in favour of common endeavours towards the non-proliferation of weapons of mass destruction.
The EU expressed concern over the latest developments in Georgia already on 18 April, confirming support for the territorial integrity and sovereignty of this country. The European Union condemns all activities that increase the tension in the region and supports all international initiatives to resolve frozen conflicts. Minister Rupel pledged to bring up this issue at the meeting with Russian Foreign Minister Lavrov; the GAERC Council agreed to the proposal that the Presidency should pay a visit to Georgia as soon as possible, perhaps in the form of the EU troika.
The EU foreign ministers also condemned the recent acts of piracy off Somalia's coast.