05.02.2008
Minister Rupel heads Georgia-EU Troika meeting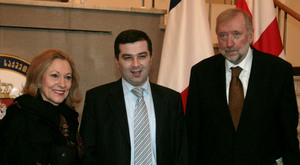 The President of the EU General Affairs and External Relations Council, Dr Dimitrij Rupel, together with the European Commissioner for External Relations and European Neighbourhood Policy, Dr Benita Ferrero Waldner, today visited Georgia as part of the three-day EU visit to the South Caucasus countries.
In Tbilisi, the EU Troika held a working meeting with Georgian Foreign Minister David Bakradze. Minister Rupel and Commissioner Waldner were also received by the President of the Republic of Georgia, Mikhail Saakashvili; the President of the Parliament, Nino Burdjanadze; the Minister for Euro-Atlantic Integration, Giorgi Baramidze; and Prime Minister Gurgendidze. Besides the meetings with the above-mentioned dignitaries, the programme of the visit included meetings with the Ombudsman and representatives of the opposition, and participation at the conference on implementation of the European Neighbourhood Policy Action Plan.
During the talks with the representatives of the Georgian authorities, Minister Rupel stressed that it was necessary for Georgia to proceed with the process of reform and democratic growth, now that the polemics have subsided. The previously established European Neighbourhood Policy Action Plan can contribute to this end; the implementation of this plan would provide for improved relations between Georgia and the European Union.
As regards domestic policies, the European Union stresses the importance of normalisation of the political situation and the need for the Government to stay open to dialogue with the opposition. The comments of international observers concerning the presidential election process should be noted.
Human rights are an important chapter of the European Neighbourhood Policy Action Plan, and Dr Rupel emphasised that the European Union was ready to cooperate in the consolidation of democracy, also in the context of preparations for Parliamentary elections, in strengthening the rule of law and in reforming the judicial system and the penitentiary system, and last but not least, in the field of the protection of minorities.
Minister Rupel also pointed out that the European Union supported the efforts to resolve issues concerning both seceded regions, particularly through participation in the initiatives to re-establish trust in the region. Dr Rupel gave his assurance that the European Union supported the territorial integrity of Georgia; he welcomed the recent contacts with Russia and supported the dialogue between the two countries.
Dr Rupel concluded by stressing the high strategic importance of the cooperation between the countries of the Black Sea region and pointed to the safety of the energy supply, an issue of strategic importance to this region.