07.02.2008
Prevention has been shown to be the most effective means of reducing the burden of cancer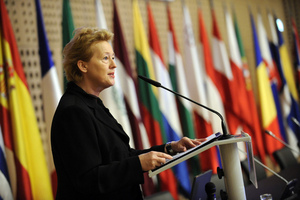 At Brdo pri Kranju, the Slovenian Minister of Health, Mrs Zofija Mazej Kukovič, today opened a two-day conference entitled "The Burden of Cancer - How Can it Be Reduced?", the main Presidency event in the field of health. "According to data for the majority of European countries, the incidence of cancer in women and men has been increasing despite achievements in cancer prevention and treatment. One in three EU citizens will suffer from cancer in their lifetime and one in four will die of cancer," stressed the Minister, going on to say that the ageing society is expected to cause a rise in the number of patients and therefore increase the burden of cancer over the next years and decades. The Minister pointed out that our goal should be "to prevent the preventable! At least one third of cancers can be prevented. Disease prevention has been shown to be the most effective - and hence strongest – means of reducing the burden of cancer in each country."
Slovenia selected cancer as a health priority during its EU Council Presidency, as the data reveal that, for the majority of European countries, the incidence of cancer in women and men has been increasing despite achievements in cancer prevention and treatment. Cancer is the second most important cause of death in developed countries, sharing many risk factors with cardiovascular disease. In order to successfully tackle the burden of cancer, we need a comprehensive approach at all levels, ranging from disease prevention, organised screening and early detection to optimal treatment, rehabilitation and palliative care, combined with investment in research in all these areas.
The conference, which is attended by representatives of the EU Member States, the European Commission, the European Parliament, experts in cancer research and treatment and members of specialist associations and non-governmental organisations, provides an opportunity for exchanging information, experiences and good practices in the field of comprehensive cancer treatment, focusing on the possibilities for more effective joint actions at EU and national level with a view to reducing the burden of cancer in future. The chief objective pursued by the Slovenian Presidency initiative is how to reduce the burden of cancer and how to reduce the inequalities in morbidity and survival rates for patients with cancer across the EU. The first step towards achieving this objective is to review what has already been done in the field and to determine key recommendations for future measures. This specifically is the purpose of the conference.
In addition, cancer will be the main topic of discussion at the informal ministerial meeting held in April at Brdo pri Kranju and chaired by Slovenia as the presiding state. Based on the discussions at the conference, the Presidency plans to prepare corresponding Council conclusions, which will be submitted to the EPSCO Council for adoption at its June session in Luxembourg.