08.02.2008
Each euro invested in prevention is – long term – the best investment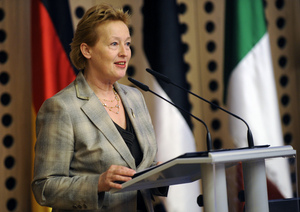 "The Slovenian initiative on cancer is a new opportunity to intensify efforts to reduce the burden of cancer. The great interest in this conference and the commitment shown by participants confirm my belief that this opportunity will be successfully exploited," were the words with which Slovenian Health Minister Mrs Zofija Mazej Kukovič today closed the two-day conference entitled "How to reduce the burden of cancer" held at Brdo pri Kranju.
At the conference, health policy makers, medical experts, researchers, representatives of patients and many others had discussed approaches to dealing in a comprehensive way with the burden of cancer, incidence of which is on the rise on account of the ageing population. The Minister stressed that "our actions must be targeted primarily at improving the health and quality of life of EU citizens," going on to say that "citizens that are healthy and creative will make the best contribution, through their activities, towards improving economic competitiveness and economic performance, which is also in line with the Lisbon Strategy objective. At the same time it is important that, as soon as they are affected by this serious disease, they are provided with all the best treatment and support they need. By successfully tackling cancer, which may even in the immediate future become the greatest public health challenge, we will also become economically more successful."
In her speech, the Minister also highlighted specific areas where she saw opportunities for closer cooperation and added value at EU level. To tackle cancer successfully, Member States need a comprehensive national plan and relevant information provided by population registers for cancer. The greatest challenge for the State, thereafter, is to implement the plans adopted in everyday life.
As an important area, Mrs Mazej Kukovič pinpointed the early detection of types of cancer which cannot be prevented. The Minister stressed that the investment of resources can be justified and the targets of screening programmes attained only through well-organised, well-managed programmes linked with population registers and through proper responsiveness and continuous quality monitoring. In future, Member States should earmark more funding for the prevention and early detection of cancer. "Each euro invested in prevention is – long term – the best investment. This is what needs to be taken into consideration when making difficult decisions on health priorities," she added.
The Minister also called for increased support for independent academic research in the field of cancer, and for research and clinical practice to be joined up.