11.02.2008
EU-Arab League Ministerial Meeting in Malta; President of the EU General Affairs and External Relations Council Dr Dimitrij Rupel Regarding the Middle East Peace Process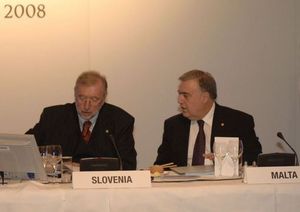 Dr Dimitrij Rupel, Minister of Foreign Affairs of the Republic of Slovenia and President of the EU General Affairs and External Relations Council (GAERC), participated today in the EU-Arab League ministerial meeting in Malta. The first part of the meeting will focus on the situation in the region, with particular emphasis on the Middle East crisis. Seven EU and ten Arab League foreign ministers will be attending the meeting.
In his introductory address, Minister Rupel stated that peace, stability and well-being are the common concern of both Europe and the Arab League, and that "mutual understanding and dialogue among cultures are essential for peaceful and successful coexistence; the European Union and the Arab League may contribute substantially to this."The Minister also explained that the Union appreciates the important role of the Arab League and welcomes its initiatives, which are part of efforts to achieve peace in the Middle East. Minister Rupel added that the European Union welcomed the contribution of Arab states to the conference in Annapolis and the donor conference for Palestine in Paris in December. The process initiated in Annapolis must be supported by all players, and the active engagement of Arab states is essential for success. Both sides must be supported and encouraged to take all possible measures to improve the situation in the region. The Arab League may also contribute significantly to intra-Palestinian dialogue; the Union is particularly interested in the establishment of Palestinian institutions, particularly in the field of security. Efforts to improve the situation on the ground are necessary as well and Israel must demonstrate its engagement in this regard; it must freeze the construction of settlements that undermine the spirit of trust in the peace process; at the same time, Israel should improve the conditions regarding access and free movement, which are the essential prerequisites for improving the economic situation in Palestine. Minister Rupel went on to underline that violence in the Gaza region must stop: rocketing from Gaza and Israeli military retaliation.
The Slovenian Foreign Minister also underlined that initiatives are necessary on both sides to establish mutual trust as a basis for advancing the political process. "We are convinced that the Arab League may constructively and creatively channel its endeavours towards peace, enabling both sides to attain the objectives set," added Minister Rupel.
The Union regards the resolution of the situation in Gaza by the reopening of crossing points to be a priority, as Gaza must be guaranteed a flow of goods and services. The EU is certainly willing to consider reopening the mission at the Rafa crossing point.
As regards Lebanon, the President of the EU Council supported the plan of the Arab League regarding the election of a president, the formation of a national unity government, and the adoption of new election legislation.