13.02.2008
Minister Rupel heads EU Troika-Russia meeting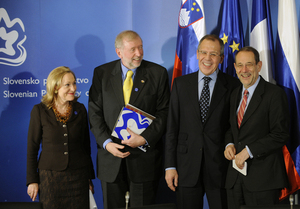 Dr Dimitrij Rupel, Minister of Foreign Affairs of the Republic of Slovenia and President of the EU General Affairs and External Relations Council (GAERC), today headed a foreign ministerial level meeting between the EU Troika and Russia, which took place at Brdo Castle in Slovenia. Apart from Minister Rupel, the EU was represented by Javier Solana, High Representative for Common Foreign and Security Policy and Secretary-General of the Council of the European Union, Dr Benita Ferrero-Waldner, European Commissioner for External Relations and European Neighbourhood Policy, and Jean-Pierre Jouyet, State Secretary responsible for European Affairs at the French Foreign Ministry. The Russian delegation was headed by Foreign Minister Sergey Lavrov.
At the meeting, Minister Rupel stressed the long-standing successful cooperation between the European Union and the Russian Federation, and pointed out that Slovenia is the first Slavic country to have assumed the presidency of the EU Council. Slovenia plans to mark this fact by organising a special event in Brussels – an exhibition entitled The Slavs of Europe.
The Slovenian Foreign Minister also emphasised that Russia and the European Union together contribute to the consolidation of peace and stability in a region sharing a common history and civilization. These topics will also be at the core of a number of initiatives in the Year of Intercultural Dialogue, which is also one of the priorities of the Slovenian presidency.
As regards specific issues, Minister Rupel underlined the endeavours to launch negotiations as soon as possible on a new comprehensive agreement to replace the existing Partnership and Cooperation Agreement, and assured Russia of support in its efforts to join the World Trade Organization.
With regard to the upcoming presidential elections in Russia, the EU's expectations of free and fair elections are justified; the Minister further expressed his regret that no agreement had been made to deploy an OSCE/ODIHR election observation mission. He also expressed concern about the future of the British Council in Yekaterinburg and Saint Petersburg, stating that this institution can play an important role in establishing intercultural dialogue.
The meeting also addressed a number of foreign policy issues, particularly the situation in the Western Balkans, and Minister Rupel reiterated the Union's readiness to guarantee the European perspective for the entire Western Balkans, and as well highlighted Slovenia's endeavours to accelerate Serbia's drawing nearer to the EU. The Slovenian Foreign Minister referred to Kosovo as a European issue, which was indirectly confirmed by the UN Secretary-General Ban Ki-moon, who expressed his expectations regarding the EU's enhanced engagement. Minister Rupel also explicitly underlined that Kosovo is a sui generis case and cannot be used as an example for dealing with situations in other parts of Europe or elsewhere.
The meeting also provided an opportunity for an exchange of views on some other international issues, particularly the Middle East Peace Process and the EU mission to Chad.