14.02.2008
Particular attention to be paid to education and youth in the Lisbon Strategy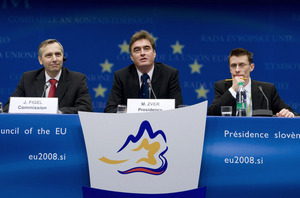 "The Lisbon Strategy will be key to a successful and competitive Europe only by giving a more prominent role to education and youth," stated Milan Zver, Chair of the Education, Culture and Youth Council and Minister for Education and Sport of the Republic of Slovenia, after today's Council meeting. He added, "By adopting key messages to the Spring European Council, we have made a huge step in this direction. Now it all depends on the European Council."
The key messages to the Spring European Council in the field of education and training stress the importance of lifelong learning, in particular the improvement of reading literacy and educational attainment. The 2008 Interim Report on Education and Training 2010, adopted today, shows low achievements in reading literacy and a high percentage of early school leavers. This is a poor indicator for the future of a competitive Europe with a highly developed economy. "In the key messages, we therefore stressed the knowledge triangle, which will be effective only if a creative and innovative approach to education and training is developed," emphasised Council Chair Zver.
The key messages to the Spring European Council in the field of youth invite Member States to include special measures for young people in their employment and social strategies. Council Chair Zver underlined the measures for young people with fewer opportunities, who "should be given more attention by stronger guidance, multidisciplinary support and tailored measures". Only such measures will enable young people to become important players in achieving social and economic progress.