18.02.2008
EU Fisheries Ministers decisively in favour of improving common fisheries policy control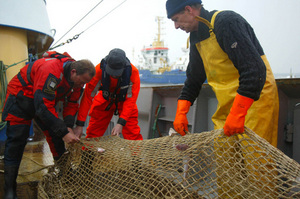 In the margins of today's meeting of the EU Agriculture and Fisheries Council, an informal meeting of Fisheries Ministers was held. At the meeting chaired by the Slovenian Minister for Agriculture, Forestry and Food and current Council President, Mr Iztok Jarc, the Ministers exchanged opinions on the necessary reform of the fisheries control regime.
After the meeting, Mr Jarc noted that "the debate was very productive and showed that the Ministers are united in the view that the common fisheries policy control regime needs to be thoroughly reformed."
"It is a vicious circle," he said, "Since there is no efficient control regime, we are trying to tackle the problem by reducing the allowable catch limits; however, these efforts are then nullified by excessive fishing over which we have no adequate control."
Mr Jarc also emphasised that it was "very important for short-term measures – including coordinating control between Member States, stricter implementation of the vessel monitoring system (VMS), procedures for cross-checking of data and assessment of the penalties for infringements laid down by the Member States – to be planned as early as this year."
The current control regime is inefficient, too expensive, complicated and does not yield the desired results. The existing legislative framework for the control regime is also highly fragmented. The outcome of the debate will provide the Commission with guidelines for preparing a reform of Fisheries Control regime legislation, thus contributing to the more efficient implementation of common fisheries policy rules.
One of the key priorities of the Slovenian Presidency in the field of fisheries is the fight against illegal, unreported and unregulated fishing; action cannot be successful, however, without an effective control regime.
The Commission is expected in the second half of 2008 to produce a proposal for a new common fisheries policy control Regulation, which would be adopted by the EU Council by the end of 2009 and would enter into force in 2010.
At today's meeting, the Commission presented a non-paper on reform of the EU common fisheries policy control regime, in which it outlined previous reforms of the control regime, the shortcomings of the current CFP control regime, the main recommendations of the Special Report of the Court of Auditors of the European Communities, steps towards development of a new fisheries control strategy, and short- and medium-term control objectives.