18.02.2008
Minister Rupel: The EU has adopted a common view on Kosovo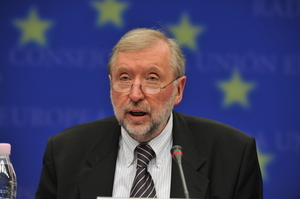 "The European Union has once again successfully passed the test showing its unity and adopted a common view on recent developments in Kosovo." With these words, the President of the EU General Affairs and External Relations Council, Slovenian Foreign Minister Dimitrij Rupel, opened the press conference following the Council meeting which focused primarily on the situation in Kosovo.
In his explanation of the adopted view, Minister Rupel stressed that the EU has taken note of the situation after Sunday's resolution by the Kosovo National Assembly declaring independence. The EU General Affairs and External Relations Council noted that the resolution contained provisions on democracy and equality of citizens, as well as on the protection of the Serbian and other minorities, and that Member States would determine their relations with Kosovo based on their national practices and international law.
Minister Rupel devoted considerable attention to the deployment of an ESDP mission in Kosovo, an integral part of "the EU's long-term efforts towards stability of the Western Balkans", and emphasised that this conclusion had been unanimously adopted by the December European Council. The EU will certainly continue its cooperation with the UN, KFOR, OSCE, and other international players in the region.
The Slovenian Foreign Minister also stressed that the EU General Affairs and External Relations Council had reaffirmed its full support for the European perspective of the entire Western Balkan region.
He added that on behalf of the European Union, the Presidency had condemned the latest acts of violence in Belgrade, Mitrovica and elsewhere, particularly those against diplomatic missions, and urged the authorities "to ensure safety of EU citizens and their property". Finally, he urged Belgrade and Pristina to honour the commitments undertaken and to refrain from any acts that could pose a threat to security in the region.
Answering a direct question at the press conference Minister Rupel emphasised that Kosovo was a sui generis case and could not at all be considered as a precedent with respect to other situations; this position has been clearly pointed out in the Council conclusions.