18.02.2008
EU General Affairs and External Relations Council discusses several external relations issues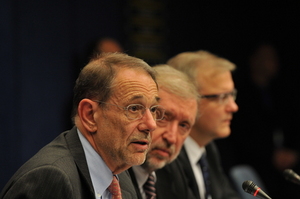 The European Neighbourhood Policy was, alongside the Western Balkans issue, among the most important discussion topics of today's EU General Affairs and External Relations Council session. The President of the EU Council, Slovenian Foreign Minister Dimitrij Rupel, underlined the extreme importance of this policy and stated that it was one of the priority tasks of the European Union's external relations. He expressed his thanks to the European Commission for its engagement in respect of this issue and assured the EU Council's absolute commitment.
Within the framework of the European Neighbourhood Policy, this time special attention was given to the Republic of Moldova. Noting the positive dynamics in relations, it was pointed out that further efforts were required to strengthen democracy and the rule of law, and to respect human rights and the freedom of the media, in particular before the parliamentary elections.
The Council also discussed several other external relations issues. Concerning Chad, Minister Rupel first condemned the recent acts of violence, including the attacks on headquarters and government representatives by armed groups. The European Union called on everyone involved to halt the use of force and to renew support for the African Union ceasefire initiative and the permanent resolution of the crisis, especially the efforts of the African Union and the United Nations towards respecting Chad's sovereignty and territorial integrity. Minister Rupel also expressed his concerns in respect of the arrest of Chad's opposition leaders and emphasised in particular the concern for the civilian population. This very concern was the reason for the deployment of a European Union peacekeeping mission, which was decided upon at the Council Meeting in January.
As regards Burma/Myanmar, Minister Rupel highlighted his concerns about the present situation, in particular with respect to human rights. The EU Council urged the authorities of Myanmar to make every effort towards a rapid transition, which would, via a referendum on the constitution, lead to multiparty elections in 2010. On the basis of the consistent position of the European Union, committed to providing stability, progress and democracy, Minister Rupel called on the authorities to release all political prisoners.
During discussions on the situation in Kenya, the EU Council once again expressed its concerns about the violence and instability. The Council therefore again called on Kenyan political leaders to commit themselves to ending the violence and supported the initiative of Kofi Annan and the Panel of Eminent African Personalities. In this respect, it welcomed the agreement among the Kenyan parties and the setting up of an inter-party commission for truth, justice and reconciliation.