21.02.2008
EU Troika meeting with Afghanistan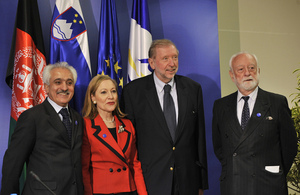 President of the EU General Affairs and External Relations Council, Slovenian Foreign Minister Dimitrij Rupel headed a meeting between the Foreign Ministers of the EU Troika and Afghanistan held at Brdo pri Kranju, Slovenia. Apart from Minister Rupel, the EU was represented by Benita Ferrero-Waldner, European Commissioner for External Relations, Francesc Vendrell from the EU Council General Secretariat, and Rama Yade, French Secretary of State for Foreign Affairs and Human Rights. The delegation of the Islamic Republic of Afghanistan was headed by Foreign Minister Dr Rangin Dadfar Spanta.
Minister Rupel explained that the meeting had focused on three major issues: the state of affairs in Afghanistan, cooperation between the EU and Afghanistan and the political situation in the region.
On the situation in Afghanistan, Minister Rupel was pleased to note that progress had been achieved in certain spheres, especially in the social sector, e.g. in terms of the rights of women. Women are now better represented in politics and have access to education, with a third of all girls in compulsory schooling. There are eleven universities in Afghanistan at the moment, as opposed in 2002 to just one, open only to men. The economic situation is improving as well and only a few areas remain problematic, namely ensuring security, the issue of drug production and the organisation of state structures.
On the subject of cooperation between the EU and Afghanistan, Minister Rupel especially highlighted the EUPOL mission deployed under the European Security and Defence Policy and mentioned preparations for an international conference on Afghanistan to be held in Paris this May.
On the situation in the region, relations between Afghanistan and its neighbours had been examined, especially Iran and Pakistan. Minister Rupel regarded good bilateral relations with Pakistan as one of the preconditions for the stability of the region. As for Iran, the chief concern was its nuclear programme. The Slovenian Foreign Minister drew attention to the conclusions of the EU General Affairs and External Relations Council in January and to the Berlin draft resolution by the Foreign Ministers of the permanent members of the UN Security Council and Germany of 22 January 2008.