25.02.2008
EU Competitiveness Council adopts paper on key issues within the Lisbon process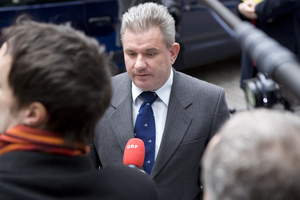 The first session of the Council of EU Ministers on Competitiveness this morning in Brussels addressed the internal market and industry policy. The main item on the agenda of this morning's session, chaired by the Slovenian Minister of the Economy, Mr Andrej Vizjak, was the adoption of the key issues paper (KIP) in the context of the Lisbon economic reform process.
The key issues paper is the Competitiveness Council's contribution to the spring meeting of the European Council, which will prepare conclusions on the implementation of the Lisbon strategy. The Competitiveness Council's key issues paper covers key measures in the area of investment in knowledge and innovation and in the area of unlocking business potential, especially that of small and medium-sized enterprises, two of the four pillars of the renewed Lisbon strategy. It also offers recommendations for transforming Europe into a sustainable economy and stimulating European success on the global market. Mr Vizjak noted, "The central message of the key issues paper is 'Turning challenges into opportunities', since it includes guidelines for enabling the European economy to respond to the challenges of increasing globalisation." He added that, after favourable economic growth over the past two years, progress needed to be made on further internal reforms to maintain and improve the competitiveness of the European economy worldwide.
The Presidency has prepared Council conclusions on the review of the single market, agreeing that there are still unexploited opportunities and that the single market needs to adapt to the new reality. "We need new impetus to enable the EU to compete successfully with other world players. The single market should help the EU respond successfully to the challenges of globalisation and pro-actively shape the process of globalisation," emphasised the President of the Competitiveness Council, Andrej Vizjak. We therefore need a strong, innovative and competitive market, which will take full advantage of the potential of services and will function to the benefit of the consumers and enterprises.
At the meeting, the European Commission supplied information on the monitoring of results for consumers in the single market, providing a review of the consumer market situation and the consumers scoreboard. Mr Vizjak said, "The new approach complements the overall market monitoring system developed by the Commission to follow the single market and will help further develop the consumer side of general market monitoring." The Ministers were also informed of achievements in the area of the single market in the form of the Internal Market Scoreboard, compiled every six months, which examines how quickly and effectively Member States incorporate single market Directives into national law.