25.02.2008
Minister Rupel welcomes Bosnia and Herzegovina Foreign Minister Alkalaj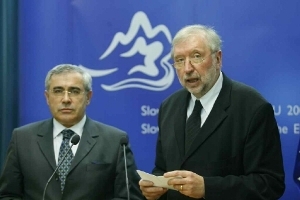 The President of the General Affairs and External Relations Council, Slovenian Foreign Minister Dimitrij Rupel, met today in Ljubljana with the Minister of Foreign Affairs of Bosnia and Herzegovina, Sven Alkalaj. Their discussion centred on the alignment of Bosnia and Herzegovina with the European Union.
In this regard, Minister Rupel emphasised the importance of the initialling of the Stabilisation and Association Agreement in December 2007; the adopted measures for the proper functioning of Bosnia and Herzegovina's government and parliament contributed to this. "The establishment of well-functioning state institutions is an indispensable condition for the faster alignment of Bosnia and Herzegovina with the European Union," emphasised the Slovenian Foreign Minister, who also mentioned that Slovenia would consider the signature of the agreement during the Slovenian Presidency as a great success.
Namely, the revival of the Thessaloniki Agenda, which ensures a European future for the whole Western Balkans, is one of the key priorities of the Slovenian Presidency; furthermore, Dr Rupel expressly emphasised that it is very important that Bosnia and Herzegovina does not lag behind other countries in the region. The EU meeting on the Western Balkans, which is scheduled as part of the informal meeting of foreign ministers at the end of March in Brdo, is, according to Dr Rupel, an opportunity for a strong positive message for and about the region.
Regarding other issues, the Slovenian Foreign Minister welcomed the stated intent of the European Commission to begin visa dialogue with all the countries in the region; he also drew attention to the upcoming official establishment of the Regional Cooperation Council, which will be celebrated in Sofia on 27 February. With its creation, the region will assume responsibility for continuing the successful functioning of the stability pact, and will solve problems in the spirit of regional cooperation.
At the meeting, the ministers also devoted attention to the situation in Bosnia and Herzegovina; Minister Rupel emphasised the importance of unity, independence and territorial integrity for Bosnia and Herzegovina. "We hope that Bosnia and Herzegovina will be a successful and functional country, which would also overcome the internal differences that impede the progress of the country on its way to Euro-Atlantic integration," said the Slovenian Foreign Minister.