28.02.2008
Energy Ministers confirm Strategic Energy Technology Plan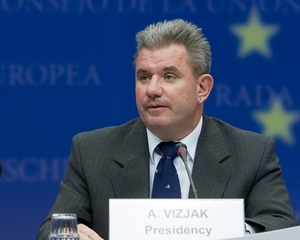 At today's meeting of the Transport, Telecommunications and Energy (TTE) Council, EU Energy Ministers endorsed the Strategic Energy Technology Plan. "'I am extremely pleased that we have confirmed the conclusions prepared by Slovenia on the basis of the Commission's report on the Strategic Energy Technology Plan (SET-Plan), and I am also very satisfied with the constructive debate on the climate change and energy package and with the progress in the area of the single energy market," said the President of the TTE Council, Andrej Vizjak, at the close of the meeting.
The Council of Ministers discussed and adopted Council conclusions on the Strategic Energy Technology Plan intended to pave the way for conclusions of the spring European Council meeting on 13 and 14 March 2008. "'This is an important success for the Presidency," said Slovenian Economy Minister Andrej Vizjak, "'because the SET-Plan is one of the mechanisms that will contribute to effective problem-solving in the area of climate change as well as to achieving renewable energy targets, increased energy efficiency and sustainable use of energy." He went on to say, "'Without progress in the field of energy technology, attaining the aim of transition to a low-carbon economy by the year 2050 would be nigh on impossible."
A constructive political debate was held on the subject of the climate change and energy package presented by the European Commission on 23 January 2008. The Ministers welcomed the package and pointed out certain key points for further work. This discussion will have a considerable influence on decisions and on the course of negotiations between the Member States regarding attaining national targets in the context of climate change and energy policy. "'It may be concluded from the discussion that we have the support of the Member States for the earliest possible adoption of the entire climate change and energy package," commented Mr Vizjak, President of the TTE Council, at the end of the debate.
At the meeting, Slovenia presented the state of play so far regarding the third legislative package for the single electricity and gas market. The package is extremely important for further liberalisation of the internal energy market and, in particular, addresses effective regulation and the organisation of the energy sector in connection with this. "'A diverse debate on unresolved questions featured many different opinions and showed that all the proposed solutions need to be studied carefully and evaluated according to the guidelines adopted by the spring 2007 European Council," said Slovenian Economy Minister Vizjak, adding that political agreement on the key part of the legislative package can still be reached in this way at the June meeting of the Energy Council.