16.01.2008
Meeting between Slovenian Foreign Minister Rupel and Dutch Foreign Minister Verhagen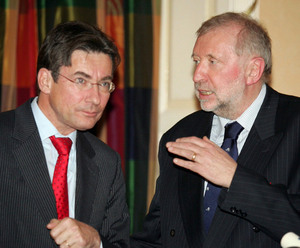 "Our goal is that by the end of the Slovenian Presidency we will have established agreements with all the countries of the Western Balkans that for all the countries in the area will pave the way to a future in Europe. In this way, we would like to revive the Thessaloniki Strategy whereby the European Union opted in 2003 to assure all the countries of the Western Balkans of a future in Europe, and thus EU membership, when they fulfilled the requisite conditions," stated the current chairman of the General Affairs and Foreign Relations Council, Slovenian Foreign Minister Dr Dimitrij Rupel at the end of the today's visit to the Netherlands.
Dr Rupel met the members of the Committees on European and Foreign Affairs of the lower house of the Dutch Parliament and the Dutch Minister of Foreign Affairs, Mr Maxim Verhagen. In discussions, he particularly emphasised the implications of the signature of the Stabilisation and Association Agreements with Serbia and Kosovo. After the meeting, the current chairman of the General Affairs and External Relations Council pointed out that the purpose of his visit was to exchange opinions and views on these topics with specific reference to Serbia. He added that, although the position of the Netherlands was clear, he had wanted to discuss all the aspects of the issue in greater depth with his Dutch colleagues.
The Slovenian Foreign Minister had also addressed the issue of establishing a specific group to follow the process whereby Serbia would move closer to the European Union and underlined that the Netherlands had welcomed the initiative and intended to support the work of such a group. According to Dr Rupel, these are extra efforts that would speed up the process of Serbia's accession to the European Union.