21.01.2008
Slovenian Presidency priorities in education and training, youth and sports presented at the European Parliament by Minister of Education and Sport, Dr Milan Zver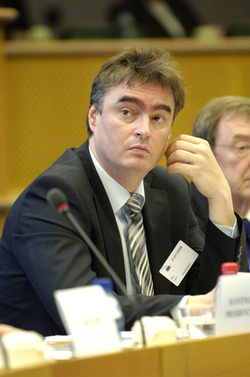 "To be a knowledge society we need more knowledge, we need new knowledge and we need to use knowledge in new ways," declared Slovenian Minister of Education and Sport and current Chairman of the EU Council, Dr Milan Zver in Brussels today, opening an address to the members of the European Parliament Committee for Culture and Education, in which he presented the Slovenian Presidency's priority tasks in the field of education, training, young people and sports.
Dr Zver stressed that the Slovenian Presidency would work to increase recognition of the role of education and training in society and in the revised Lisbon Strategy: "We intend to highlight the responsibility of education and training systems in discovering and developing the creative and innovative potential of all citizens, especially in the generations on which the success of European competitiveness within the global economy and the positive feeling of all European citizens will depend in future decades." The Slovenian Presidency will thus focus particularly on promoting creativity and innovation in the context of modernising schools. A related initiative will be to seek to declare 2009 the "European Year of Creativity and Innovation". This would send an important message to the citizens of Europe signalling that creative and innovative potential are crucial to achieving the Lisbon objectives and safeguarding the European way of life.
Speaking in the European Parliament, Dr Zver also emphasised the importance of multilingualism and promoting intercultural dialogue; preserving Europe's cultural and linguistic diversity is vitally important to every country and especially Slovenia, one of the smallest members of the European Union.
In the field of youth, Dr Zver said that "proper qualifications are a precondition for success in the labour market and this is why targets in the field of education and training are also important goals for youth policies." It is thus of key importance that different policy areas be coordinated; the Slovenian Presidency will therefore endeavour to make youth policy more operational within the Lisbon Strategy.
In conclusion, Dr Zver also presented the Slovenian Presidency's priority tasks in the field of sport: here, special attention will be devoted to drafting the Declaration on sport and the true values of sport and the basis for the European programme for sports.