21.01.2008
President of the EU General Affairs and External Relations Council, Dr Rupel, meets with Pakistani President Pervez Musharraf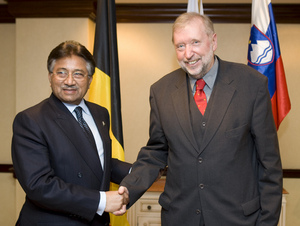 The President of the EU General Affairs and External Relations Council, Slovenian Foreign Minister Dr Dimitrij Rupel, today met the Pakistani President, Mr Pervez Musharraf, in Brussels. Discussions at the meeting focused on the situation in Pakistan and preparations for the elections as well as other important issues in the region, including the situation in Afghanistan.
Dr Rupel informed Mr Musharraf that the European Union is aware of the problems currently facing Pakistan, which is an important partner of the EU. The tragic death of Benazir Bhutto and numerous attacks on the civil population indicate the gravity of the present situation. Slovenia's Foreign Minister, Dr Rupel, speaking to the President of Pakistan confirmed the European Union's interest in the process of democratisation in Pakistan and underlined the importance of efforts to ensure that free and fair parliamentary elections were held on 18 February and that they were held in conditions of the utmost security. The task of the Pakistani authorities is to ensure this. The European Union will monitor the election process through its observers, and Dr Rupel welcomed Mr Musharraf's assurance that the Pakistani authorities would guarantee cooperation with the observer mission.
The Foreign Minister said that the European Union welcomed the democratic changes in Pakistan; the state of emergency had been lifted and the President had left the army. "The democratisation of Pakistan is of interest, first and foremost, to the people of Pakistan, but also, of course, to the wider international public, including the European Union," added Dr Rupel, going on to say that the main challenges today in Pakistan are the stability of the country, making progress with democracy and consolidating the legal order.