23.01.2008
Minister of the Economy Andrej Vizjak presents priorities of the Slovenian Presidency in the field of the internal market and consumer protection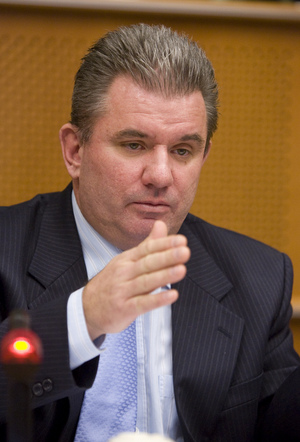 Today Andrej Vizjak, the Slovenian Minister of the Economy, presented the priorities of the Slovenian EU Presidency concerning the internal market and consumer protection at the European Parliament in Brussels. In so doing, he expressed his satisfaction with the compromise proposal concerning the Consumer Credit Directive, which was approved last week.
"This is a great success. The Slovenian Presidency managed to avoid a difficult third reading, as the contents of the compromise proposal are acceptable to the European Parliament and the Council," Mr Vizjak said.
He also talked about the Goods Package. "It is in our common interest to reach agreement on three Goods Package proposals during the first reading, which is of key importance for the smooth functioning of the internal market. We need time, and if possible, Parliament will discuss the Goods Package during the April session. By then, we will do our best to find a compromise solution between the Parliament and the Council."
Minister Vizjak highlighted better legislation as a key element of efforts for a more competitive European industry, namely the programme implementation to reduce administrative barriers for companies. "The programme is still in its early stage; that's why we have to do our best to reach our agreed objective by 2012 – a 25% drop in administrative barriers originating from EU legislation," he said.
 The IMCO Committee is the central committee for the Directive on the rights of citizens. "The Slovenian Presidency will try to achieve as much progress as possible when discussing this Directive, because we believe in the will of all parties involved to increase user rights and better protect privacy," Mr Vizjak said.
In this regard, the Commission suggests the enforcement of certain consumer and user rights, especially concerning better transparency and information publication, better access to e-communication for invalids, and accelerated incorporation of the information society. Relating to this, in the realm of telecommunications the Commission hopes to facilitate users' inter-operator migration with number portability.