23.01.2008
Slovenia in Favour of the Protection of Fishery Resources and Promotion of Sustainable Management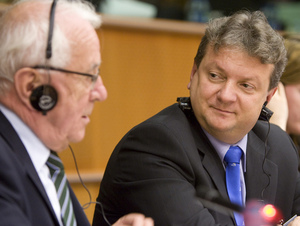 Mr Iztok Jarc, the Chairman of the EU Council presented the work programme in the fisheries sector to the European Parliament PECH Committee. The Slovenian Presidency will further encourage the preservation of fishery resources and their sustainable management. "My main priority will be the fight against illegal, unreported and unregulated fishing (IUU)", asserted Slovenian Minister Iztok Jarc.
"It is an ambitious objective, given the many difficult issues involved, but one that I think is realistic," said Mr Jarc and among the most difficult issues, he pointed to sanctions for breaches, trade measures and measures on access to ports.
In the fight against IUU fishing, Mr Jarc stressed the importance of cooperation with processors, traders and consumers. With their assistance, selling on the market can be prevented. "There is not much point in stealing something if you cannot sell it later," he said.
"One out of every four fish in the whole world is sold within Europe. We are the biggest market for fish on earth. This gives us real clout – and we should use it. We have the ability to go out and influence the world market as a consumer," affirmed Mr Jarc.
Furthermore, efforts to achieve the sustainable use of resources will also be promoted through the Commission Communication and proposal for a Council Regulation on the protection of vulnerable marine ecosystems from destructive fishing practices.
"Some people have said that bottom trawling in the sea is like hunting for deer by tearing down the forest. Living in a country covered by forests, the graphic quality of this image is one I can certainly relate to. Wanton destruction of natural habitats is not something any of us would aspire to," commented Mr Jarc on the protection of marine ecosystems. He also underlined that he is aware that the issue is a sensitive one for certain Member States.
The Slovenian Presidency will try to reach a political agreement on both dossiers at the EU Council meeting in June.
Other key objectives include the modernisation and simplification of technical measures and measures to restore and conserve stocks of certain fish species, mainly cod, herring and hake.
The Slovenian Presidency will continue the well-established practice of prior consultations on fisheries opportunities for 2009 and will prepare for the revision of the Strategy for the Development of European Aquaculture, which was adopted in 2002. Items concerning fisheries will be discussed at the EU Council meetings in April and June.
According to Mr Jarc, Slovenia's coastline may very well be short, but that still doesn't change the fact that fishery is very important for the country. "Slovenia has one of the biggest ports in the entire Adriatic, a long tradition of fishery and maritime activity, and a highly developed naval industry.  We are therefore very proud to be a Mediterranean country as well," said the Minister in the beginning of his speech.