23.01.2008
Slovenian Presidency priorities presented to the European Parliament Committee on Environment, Public Health and Food Safety and Temporary Committee on Climate Change by the Minister of the Environment and Spatial Planning, Janez Podobnik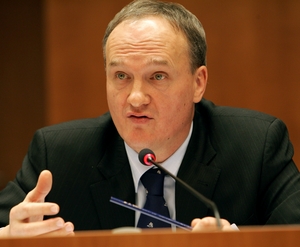 The Slovenian Minister of the Environment and Spatial Planning presented the most important objectives and tasks of Slovenia's Presidency of the Council of the European Union in the field of environmental protection to the two parliamentary committees. According to the trio Presidency programme, coordinated with Germany and Portugal, the Slovenian Presidency will pay the utmost attention to the issues of biodiversity and climate change. The most important international event in the first half of 2008 will be the Conference of the Parties to the Convention on Biological Diversity and the Conference of the Parties serving as the Meeting of the Parties to the Cartagena Protocol on Biosafety, to be held in Bonn in May 2008. The European Union has undertaken to halt biodiversity loss by 2010. The Bonn Conference will provide the opportunity to discuss the results achieved so far and to agree on how to proceed further and how, by 2010, biodiversity loss can be halted worldwide as much as possible.
In striving for environmental protection on the European and world scale, we cannot avoid the issue of climate change, which is not purely an environmental but a much more complex problem. Mr Podobnik drew the attention of the European Parliament committee members to the importance of the outcome of the Bali Climate Change Conference in December 2007, which had brought a much wider circle of countries together in the fight against climate change. But the Bali Conference is only the beginning of the process. If a new and more ambitious programme of action against climate change is to be implemented after 2012, we have to reach agreement on it in the course of the next year.
Mr Podobnik went on to give a brief outline of the other topics to be addressed by the Slovenian Presidency. Legal documents are being prepared to upgrade existing European legislation on waste treatment, water quality and fuel quality. The Minister commented, I am convinced that our close cooperation and joint efforts will yield excellent results.