23.01.2008
Minister of Foreign Affairs, Dr Rupel, presenting the priorities of the Slovenian EU Council Presidency before the North Atlantic Council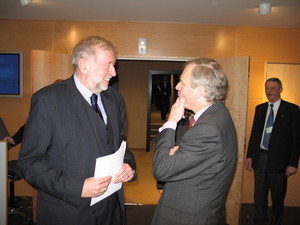 Minister of Foreign Affairs, Dr Dimitrij Rupel, at the regular session of the North Atlantic Council, today presented the priorities of the Slovenian Presidency of  the Council of the European Union with special emphasis on the fields of common foreign and security policy and the common security and defence policy.
Dr Rupel opened by expressing his pleasure at having the opportunity to present the priorities of Slovenia's EU Presidency to the North Atlantic Council, and his belief that this would give new impetus to the fruitful relations between the EU and NATO. He went on to outline five key priorities of the Slovenian Presidency: the future of Europe and the timely entry into force of the Lisbon Treaty, the economic, social and environmental scope of the Lisbon strategy, moving forward in addressing energy and climate change issues, enlargement (the European perspective for the Western Balkans), and intercultural dialogue.
"The adoption of the Lisbon Treaty has given the EU the tools for greater efficiency and democratic functioning," said Dr Rupel, adding that the Treaty established an institutional basis for continuation of the EU enlargement process. According to the Minister, the Slovenian Presidency will strive for further progress in the accession negotiations with Croatia and Turkey, and its efforts will target the Western Balkans, too. "In addition to enlargement, we will strive to further strengthen the European Neighbourhood Policy within a single, unified and coherent policy framework, based on the principle of differentiation and individual approaches to European Neighbourhood partners," he added.
On climate change and energy policy, Dr Rupel said that the measures in this field were among the key priorities for both the EU and the broader international community. "The outstanding problems associated with the consequences of climate change have wider environmental, economic and social implications and should not be underestimated," he warned.
Dr Rupel also said that Slovenia will make every effort to help promote intercultural dialogue within the EU and its surroundings, underlining that "conditions for world peace and for finding answers to the major security threats faced by the modern world cannot be created in the absence of intercultural dialogue."
As one of the major challenges of Slovenia's presidency, the Minister highlighted Kosovo, underlining that Kosovo would be also a litmus test for Europe's common foreign and security policy. He stressed the great importance of the ESDP mission to Kosovo and advocated a regional approach to the Western Balkans, "The issue of Kosovo cannot be solved in isolation. We also need to take account of Serbia, which must become more oriented towards Europe." In this connection, he added that Slovenia and other partners wished to send the region a positive message, "a message of a real and clear future in the EU and NATO for all countries in the region."