28.01.2008
Minister Marjeta Cotman speaking in the European Parliament on gender equality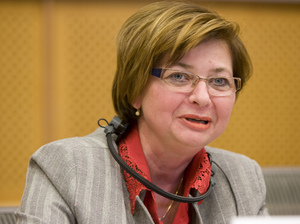 Minister of Labour, Family and Social Affairs, Mrs Marjeta Cotman, presented to the European Parliament Committee on Women's Rights and Gender Equality the priorities of the Slovenian Presidency in this area stressing that, "It is not only women-friendly policies that are important for reconciling professional, private and family life but also measures which enable both women and men to realise their professional potential and discharge their family responsibilities. We should endeavour to encourage men to play a more active role in family life and household chores."
Minister Cotman opened her presentation before the European Parliament Committee on Women's Rights and Gender Equality with the words, "I come across gender equality issues everyday in both my professional and private life. Society is changing. What seemed impossible fifty years ago is a reality today. Fifty years ago there were still places where women did not have the right to vote but today we are sitting here – you, the elected representatives of citizens and, myself, a minister from a country that a few years ago did not even exist. Together with our male colleagues, we shape our destiny and the destiny of our citizens. Yet any change, however positive, requires adjustment. This is the core of our discussions and actions on gender equality - these are major projects."
The Minister also spoke about gender mainstreaming, an area in which the Slovenian Presidency intends to continue monitoring the implementation of the Beijing Platform for Action; girl-child indicators will be developed and a report on women in political decision-making drafted. The European Institute for Gender Equality will play an important role in the process of gender mainstreaming as well as in strengthening and fostering gender equality policy in the European Union institutions and Member States.
The Slovenian Presidency will, among other things, place emphasis on the elimination of gender stereotypes as one of the most persistent causes of inequalities between men and women in all fields and at all ages. Attention will be paid to the issues of enhancing participation of girls and women in society and advancing their role and status. "We should primarily endeavour to eliminate all gaps between women and men in employment and on the labour market, including the gender pay gap," declared Minister Cotman and went on to say that, "We should not ignore issues such as violence against women, the status of women in different sectors or parts of the world and the impact of migration on the status of women."
She also invited the MEPs to attend events dedicated to gender equality. The first such conference 'Elimination of Gender Stereotypes' will be followed by the informal meeting of ministers responsible for gender equality.