28.01.2008
State Secretary Andrej Šter presents Slovenia's EU Council Presidency priorities in the area of development cooperation to the European Parliament Committee on Development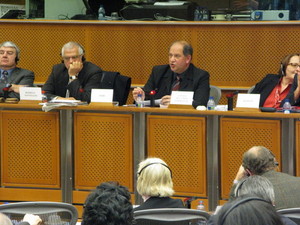 State Secretary at the Ministry of Foreign Affairs, Andrej Šter, presented the priorities of Slovenia's Presidency of the Council of the European Union to the European Parliament Committee on Development (DEVE) today in Brussels.
Mr Šter said that, despite technological progress and economic growth, the modern world is still an arena where life opportunities are unequal and economic development is unbalanced. One of the major challenges before the international community is answering the question of how to ensure prosperity for all humankind. As the largest development aid donor worldwide, the European Union has a special responsibility for providing efficient support for the development efforts made by developing countries, particularly least-developed countries.
The State Secretary commended the cooperation between the trio (Germany, Portugal and Slovenia) and the preparation of the eighteen-month Presidency Programme, ensuring consistency, efficiency and continuity throughout the three Presidencies. The joint programme concentrates mainly on achieving the Millennium Development Goals, in particular in Africa, and improving the effectiveness of aid and the division of labour. The State Secretary pointed to a particular priority of the Slovenian Presidency, namely the situation of children and women in areas of armed conflict. "I am convinced that, through development cooperation mechanisms, we can help improve the difficult position of both these vulnerable groups in cases of armed conflict, and this will also boost the EU's contribution towards achieving the Millennium Development Goals," emphasised Mr Šter.
The State Secretary highlighted the importance of close cooperation with the Members of the European Parliament, who are an important link with civil society whose support is vital to the success of development policies.