29.01.2008
Minister Iztok Jarc presents priorities in the phytosanitary, veterinary and public health area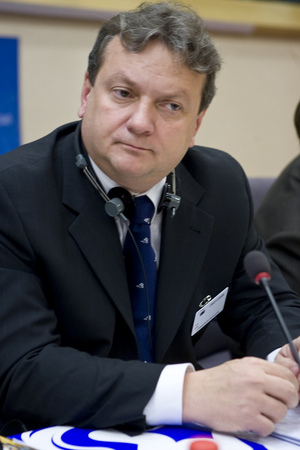 Mr Iztok Jarc, the Chairman of the EU Council, presented the work programme in the phytosanitary, veterinary and public health area to the European Parliament Committee on Environment, Public Health and Food Safety. The Slovenian Presidency will work to improve EU standards on the safety and quality of food and feedingstuffs, which will facilitate the maintenance of a high level of safeguarding public and animal health, environmental protection, and protection of consumer interests, aiming to increase consumer confidence.
Minister Jarc pointed out, "The high level of protection of public and animal health and environmental protection to which the EU is committed must begin by providing plant health and by preserving product quality in all Member States."
Therefore, the Slovenian priority will be to discuss the proposal for a regulation concerning the placement of plant protection products on the market, in respect of which the Presidency will seek political agreement, and the proposal for a directive on sustainable use of pesticides. To this end, the continuation of work is foreseen in the area of measures to reduce the risks and impacts of plant protection products on human health and the environment.
Mr Jarc pointed to the sales of seeds and plant propagating material, where the quality criteria are to be applied: "With this in view, the adoption of the proposal for a directive on marketing fruit plant propagating material and fruit plants intended for fruit production is envisaged for June."
In the public health area, Slovenia will endeavour to secure the adoption of measures concerning the prohibition on the use in stock farming of certain substances having a hormonal or thyrostatic action and beta-agonists, and continue discussion on a regulation to improve applicable Community procedures for the establishment of maximum residue limits of veterinary medicinal products in foodstuffs of animal origin. Thus the introduction of prohibited substances into the food chain will be prevented, ensuring a higher level of consumer health protection.
The Slovenian Presidency will devote special attention to the protection and welfare of animals. Mr Jarc underlined the continuation of work in the area of Animal Health Strategy (2007–2013).
Slovenia will strive for the adoption of strategic goals when establishing priorities concerning the control of disease, financing programmes, and improving biological safety in trading animals and animal products. These guidelines will provide a basis for drawing up an action plan.
Furthermore, the Slovenian Presidency will act in favour of simplifying and improving health rules concerning animal by-products and will discuss the issue concerning the extension of transitional provisions for the non-commercial movement of pets.
Mr Jarc touched upon the topical issue of genetically modified organisms. He stressed that provision of food safety was an unconditional priority. "Therefore," he said, "we will see to it that the discussion on proposals already submitted by the Commission to the Council concerning the approval of genetically modified products takes utmost account of the protection of public and animal health, as well as environmental protection."
The speech by Minister Jarc, chairing the Council, is available at: