30.01.2008
Andrej Vizjak tells the plenary session of the European Parliament, "Full liberalisation of postal services is essential to revitalising the sector and ensuring its continuation."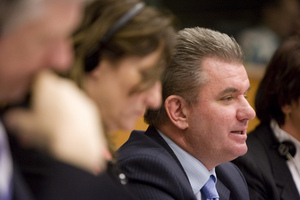 The Slovenian Minister of the Economy represented the Council of the European Union at today's plenary part-session of the European Parliament. The subject of discussion was the Postal Directive aimed at completing the single market for postal services in the Community.
The proposed amendments to the initial Directive will bring about the expected and - in terms of consistency with other EU objectives - the only possible solution, in particular with regard to the creation of a single European market, the "most competitive economy" in line with the Lisbon Strategy, and the abolishment of exclusive rights.
The main amendment put forward in the new compromise proposal is for the full liberalisation of postal market to be carried out in two stages. The general liberalisation of postal market would not have to be effected until after a set date, which would give a limited number of Member States the opportunity to maintain reserved services during a transitional period.
"So far, the liberalisation of the postal market has been a success story: new players have entered the market, new market opportunities have emerged not only for new market entrants but also for the incumbents. And for users, new services have been developed," Mr Vizjak welcomed the proposed amendments.
Tomorrow, the European Parliament will vote on the proposed Directive.