07.01.2008
Minister Dimitrij Rupel receives Piero Fassino, EU Special Envoy to Burma/Myanmar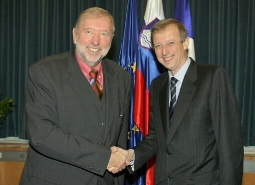 Ljubljana, 7 January 2008 – Minister of Foreign Affairs and Chairman of the General Affairs and External Relations Council, Dimitrij Rupel, today received Piero Fassino, EU Special Envoy to Burma/Myanmar. Minister Rupel welcomed the nomination of Fassino and assured him of the full support of the EU Council in his taking on this important role. The Slovenian Foreign Minister gave his assurance that the EU Council Presidency would be closely monitoring developments in Burma/Myanmar, as it was Slovenia that launched the initiative for an extraordinary meeting of the Human Rights Council on the situation in this country.
During the Slovenian Presidency, the Burma/Myanmar issue will be permanently on the agenda, and furthermore, Minister Rupel foresees close cooperation with other international organisations, particularly with the United Nations.
At the end of the meeting, in which specific aspects of the situation in Burma/Myanmar were discussed in depth in the context of initiatives taken by other international organisations, and with particular regard to the activities of Ibrahim Gambari, Special Envoy of the UN Secretary-General, Piero Fassino declared that a report on his work will be prepared and presented to the EU Council, while he assured Minister Rupel of his close cooperation with the Slovenian Presidency.