02.06.2008
Economy Minister Andrej Vizjak presents Slovenian Presidency results on internal market and consumer protection in European Parliament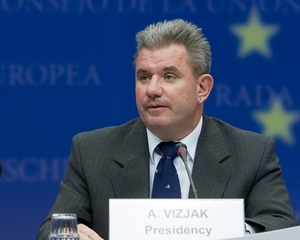 Minister for the Economy Andrej Vizjak presented the Slovenian Presidency's activities of the last few months before a meeting of the European Parliament's Internal Market and Consumer Protection Committee (IMCO). "We were justifiably looking forward to collaborating with the IMCO Committee and would like to thank the MEPs for their constructive approach and readiness to cooperate," said Mr Vizjak after his appearance before the committee.
"Free movement of goods is one of the areas in which Slovenia has its first contacts with EU legislation. We are, therefore, especially pleased that agreement on the Goods Package - which represents a new milestone in the development of the single EU market - has been reached during the Slovenian Presidency," said Vizjak, current President of the EU Competitiveness Council, by way of introduction. As the issue is closely connected with the achievement of the Lisbon objectives, the Council, Parliament and the European Commission were all keen to come to an agreement. "Through the implementation of the three legislative acts that make up the Goods Package, we will be able to provide a more business-friendly legal environment, in particular for small and medium-sized enterprises. But, most importantly for consumers, the package ensures a high level of product safety on the EU market," pointed out the Minister.
In outlining recent achievements, Mr Vizjak mentioned in particular the proposal for a Directive on credit agreements for consumers, the text of which had been adopted by the European Parliament during the Slovenian Presidency. "We are pleased that agreement has been reached, as this Directive will improve consumer protection, enhance the clarity of regulations and boost competitiveness in this area."
Mr Vizjak also spoke about other important dossiers, such as the Customs Code, the Directives on time-shares and the safety of toys, the type approval of hydrogen-powered motor vehicles, and the defence package.
IMCO Chair Arlene McCarthy and the Committee members thanked and commended the Slovenian Presidency for its excellent cooperation.